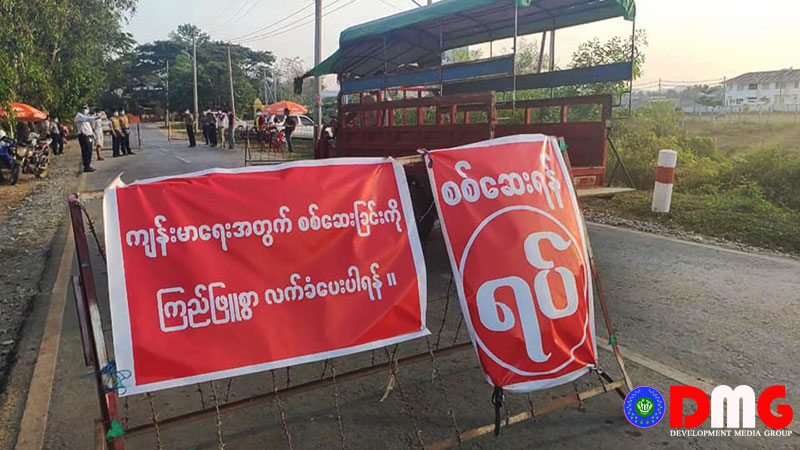 Myo Myint Zaw | DMG
6 May, Thandwe

Some people returning from Yangon, Ayeyarwady and Bago regions have entered Thandwe without undergoing 21-day facility quarantine as mandated by the government, DMG has found.
An anonymous resident of Thandwe town told DMG that returnees gave false or misleading information about their travel histories at health checkpoints, or used travel methods seemingly intended to thwart monitoring efforts.
"An express bus that departed from Pyay arrived outside Thandwe at 8 p.m. Then, passengers entered the town by motorcycle taxi or rickshaw," the resident said.
Some trucks are operating to meet the commodities needs of the town, although most bus lines are suspended during the COVID-19 preventive campaign.
"I heard that people arrived at the town by trucks, and they got off at Zalun or Tharyarkwin before reaching Thandwe town. Then, passengers entered the town by motorcycle taxi," said Pyithu Hluttaw lawmaker U Min Kyi for Thandwe Township.
Two people travelled from Pathein, Ayeyarwady Region, by motorcycle and arrived at their friend's house in Ngapali on May 3, so locals and the ward administrator sent them to the appropriate checkpoint for health screening, U Min Kyi said.
When DMG asked the district and township General Administration Departments about the arrival of travellers to Thandwe without quarantining, an official said they had heard about such cases but that he was not authorised to answer questions on the matter.
A total of 3,360 people are under quarantine and 161 people had tested coronavirus-positive as of May 6. Six infected patients have died of the disease thus far, according to the Ministry of Health and Sports.
There have been no confirmed COVID-19 infections in Arakan State to date.