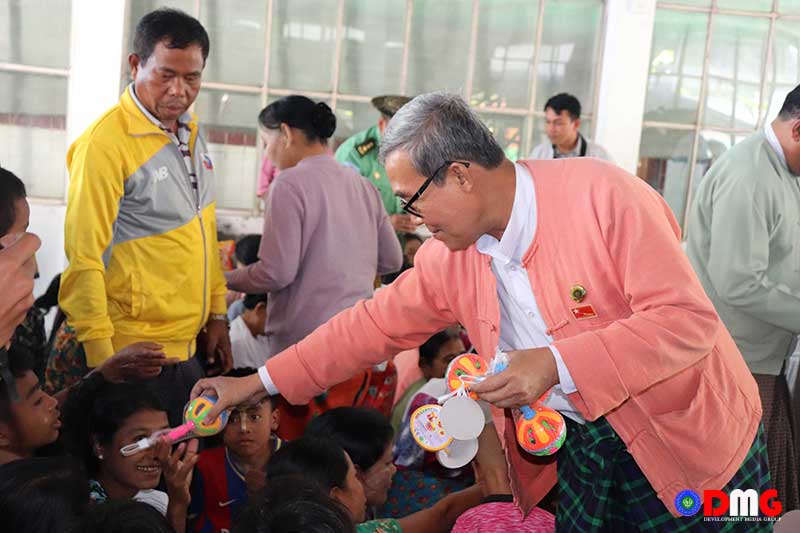 Aung Htein | DMG
7 May, Kyauktaw
The management teams of IDP camps in Kyauktaw Township are struggling to transport rice supplies to their camps despite the government having provided 500 sacks of the staple grain for the Wah Taung and Taungmin Kalar IDP camps, according to their managers.
U Tun Hla Kyaw, manager of the Wah Taung IDP camp, said he was interrogated by Battalion No. 539, based at the foot of Mt. Kan Sauk, for more than an hour on May 6 while he was transporting 250 bags of rice provided by the government.
"The township administrator said he informed the battalion [of the planned rice delivery] by phone. But, they [soldiers at the checkpoint] told me they could allow me to pass only if I could show the documents of township, district and state administrators, and a permission letter from the minister of Security and Border Affairs," Ko Tun Hla Kyaw said.
The truck carrying the rice was initially allowed to undertake the trip after the township administrator informed the battalion, but they were prohibited from delivering the 250 rice sacks because they did not have the permission of the minister of Security and Border Affairs, said U Sein Shwe Bu, the administrator of Wah Taung village, who was involved in transporting the rice.
The government has provided 60 tins of rice per person per month, and IDPs from Wah Taung and Taungmin Kalar camps are primarily depending on the government-supplied rice because there are few donations to the camps from civil society organisations.
"IDPs will be in trouble if we do not have enough rice. They do not have jobs and are not able to conveniently return to their homes. They have to depend on provisioning," Ko Tun Hla Kyaw said.

DMG phoned Kyauktaw Township administrator U Kyaw Win and deputy township administrator U Myo Thein Zaw to seek comment regarding the camps' situation, but they could not be reached.

People from Kyauktaw Township villages such as Khamaung, Pyein Chaung, Ginpi and some others have been sheltering at Wah Taung IDP camp since December 2018, when hostilities between the Tatmadaw and the Arakan Army first flared.
Last month, 15 IDPs including a clerk of the local village general administration department were arrested while transporting 150 rice bags provided by the government for Nyaung Chaung IDP camp in Kyauktaw Township.