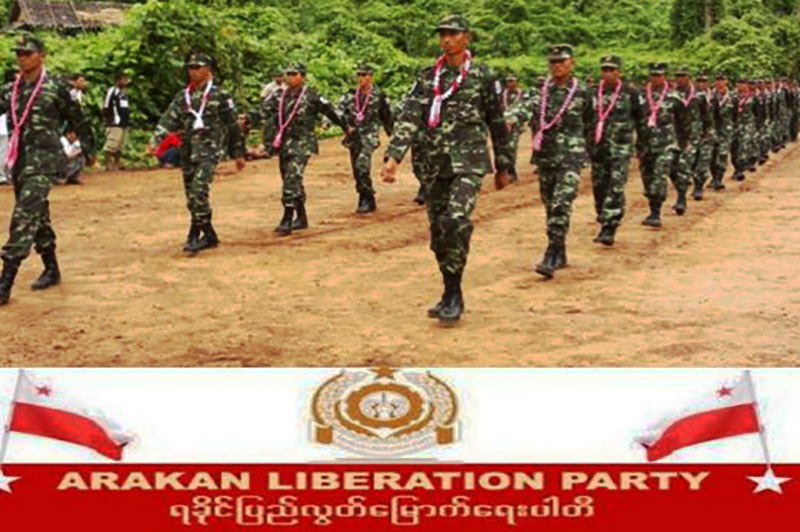 Aung Htein | DMG
3 June, Sittwe

A spokesperson for the Arakan Liberation Party (ALP) said the government bore some responsibility for the detention of three of its members, allegedly by the Arakan Army.
The ALP on June 1 released a statement saying about 15 AA members abducted Khaing Maung Khin Win and Khaing Maung Lone, members of the ALP and its armed wing, the Arakan Liberation Army, on May 23 while they were at their homes in Rabetchaing village, Pauktaw Township.
U Win Hlaing, a member of the ALP living in Taungup Township's Sarpyin village, was also abducted by the AA on May 31, the ALP statement said.
But the ALP spokesperson, Colonel Khaing Soe Mya, said the government agreed to take responsibility for the security of ethnic armed organisations existing in its areas of administration under the terms of a bilateral ceasefire agreement signed with the ALP.
Therefore, the government was liable in the matter of the three ALP members' abductions, the colonel said.
"The government told us we can live freely in their areas. If something happens to us, it is their responsibility. So, we stopped our activities in the region. If the government does not take its responsibility, we will protect the lives and prosperity of our members," he said.
The ALP contacted officials from the AA about the arrests, and the AA said they were being detained for interrogation and would be released when the time was right, said Colonel Khaing Soe Mya.
The spokesperson for the AA, Khaing Thukha, told Myanmar Now that the AA did not arrest U Win Hlaing, but the AA has not made any mention of the other ALP members who are missing.
The ALP/ALA signed the Nationwide Ceasefire Agreement with the government in 2015.