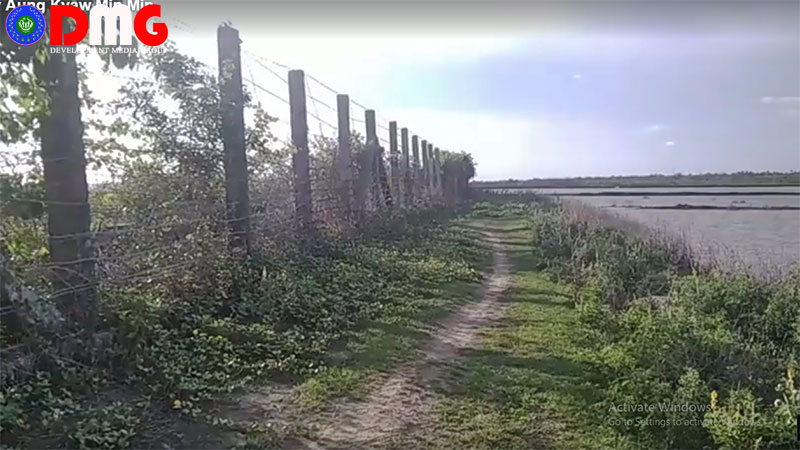 Kyaw Myo Aung | DMG
18 June, Maungdaw

An investigation has been launched to root out those responsible for sending people in Bangladesh across the border illegally into northern Arakan State, according to the Maungdaw District administrator.
As part of the probe, authorities are preparing to open a case against a suspected boatman as well as stepping up patrols along routes thought to be used for people-smuggling into the Maungdaw area, said district administrator U Soe Aung.
"A boatman from Mingalagyi village of Thayet Oak village-tract is suspected of transporting people who entered illegally. We are preparing to file a case for trafficking in persons," the administrator said. "He hasn't been arrested so far. We gave information to the Border Guard Force to be able to arrest him."
Arakan State Hluttaw lawmaker U Tun Hla Sein from Maungdaw Township said one reason for the failure to halt illegal border crossings was that the administrative and security apparatuses in the Maungdaw area were separate from each other. Several people are believed to have entered Myanmar unlawfully from Bangladesh with the help of brokers who charge a fee for their services.
Amid the COVID-19 pandemic, the Myanmar government has suspended the repatriation of hundreds of thousands of refugees living across the border in Bangladesh camps. But since the suspension, the number of illegal entries has reached 81, according to figures provided by the district General Administration Department.
The number of positive COVID-19 cases in Arakan State stood at nine as of June 18, according to a statement released by the Ministry of Health and Sports — one each in Taungup and Thandwe townships, four in Maungdaw Township, and three in Buthidaung Township.
All seven coronavirus cases reported across Buthidaung and Maungdaw townships are illegal returnees from Bangladesh.
Maungdaw District residents worry that the virus may spread in the region if border control is not made a higher priority, with local authorities including Border Guard Force units taking heat and being urged to clamp down on illegal crossings.