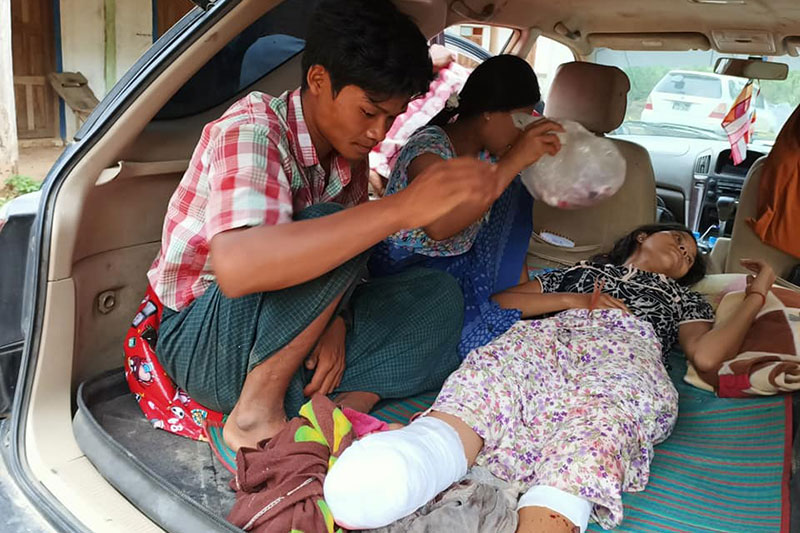 Hnin Nwe | DMG
27 June, Sittwe
A young woman from Sa Nyin village in Myebon Township, Arakan State, lost one of her legs after stepping on a landmine on June 27, according to residents.
The 20-year-old victim, identified as Ma Nan Su, encountered the landmine while on her way to catch crabs with her husband, a Buddhist monk who helped her told DMG.
"She stepped on a landmine in the jungle while going to the pond to catch crabs," the monk said.
Ma Nan Su received medical treatment from security personnel at a military checkpoint before being sent to Kan Htauk Gyi Hospital, according to locals who assisted the victim.
"Security personnel at the military checkpoint offered initial medical treatment to the victim. I think the victim was to be sent to the hospital later," the monk said.
Landmines should not be planted in or near fields traversed by local people, said U Pe Than, the Lower House MP for Myebon Township.

"Neither the Tatmadaw nor Arakan Army should plant landmines near farmlands. Farmlands should not be battlefields," he added.  
Across Arakan State, the number of civilians killed or injured by artillery shells, landmine encounters or stray gunfire amid ongoing clashes between the Tatmadaw and Arakan Army is on the rise.
Some civil society organisations have been providing landmine risk education programming in cooperation with the International Committee of the Red Cross.