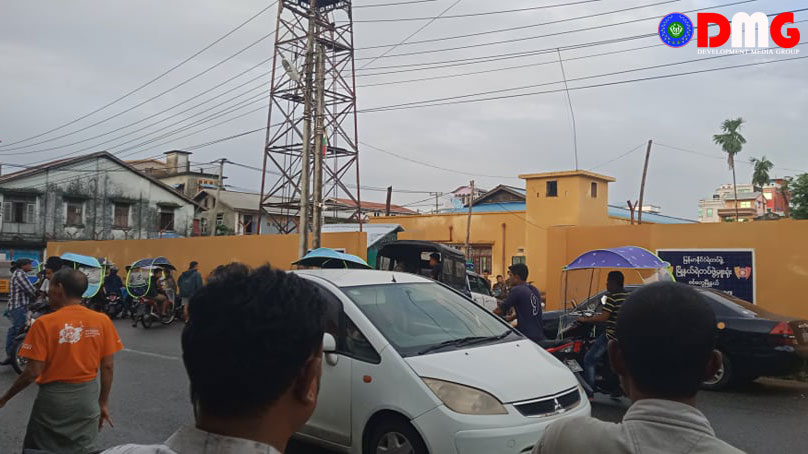 Aung Htein | DMG
30 June, Sittwe 
A police sergeant was reportedly stabbed to death by two unidentified men in the Arakan State capital Sittwe on June 29.  
The victim was identified as Maung Maung Than from the No. 1 police station in Sittwe, according to family members of the deceased. 
Two unknown assailants stabbed Maung Maung Than in front of his house in Sittwe's Magyi Myaing Ward-3 at about 8:30 p.m. on Monday, the victim's wife told DMG. 
"Two men attacked my husband with metal rods first," said Daw Htay Htay Win. "My daughter was shouting at the two men, asking, 'Why did you attack my father?' The two men stabbed my husband when I came out of my house." 
The police sergeant was stabbed nine times in the chest and abdomen. He was to be hospitalised with multiple injuries, but was pronounced dead on arrival at Sittwe Hospital, according to the victim's family members. 
The body of the deceased was transported to his home on Tuesday afternoon and will be cremated at 2 p.m. on Wednesday. 
DMG contacted Police Captain Aung Mya Oo, head of Sittwe's No.1 police station, seeking comment on the lethal assault of his junior colleague, but he did not reply. 
U Thein Hlaing, the Setyonesu ward administrator in Sittwe, was stabbed to death by four unidentified men in Mawlake ward on May 25. 
Residents complain of a deteriorating security environment in the state capital, with one local last month telling DMG that "everyone in Sittwe worries day in and day out" about their safety. 
Violent crime in the capital in recent months has included the grisly February murder of a woman whose body was found in her home with slash marks to her neck. In October of last year, the owner of a construction company and a driver were shot by two gunmen in Kyauk Tet Lan ward.