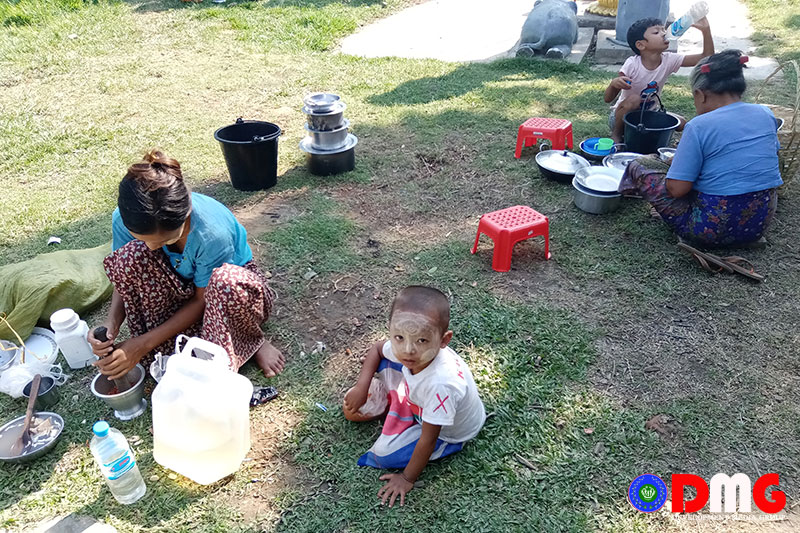 Aung Htein | DMG
8 July, Sittwe 
The number of internally displaced people (IDPs) forced from their homes by ongoing conflict between the Tatmadaw and the Arakan Army has surged by more than 34,000 in one month, according to the Rakhine Ethnics Congress (REC), which put the total IDP tally at 190,708. 
The REC, which has been collecting data on displaced populations in Arakan State, previously stated on June 8 that there were 156,456 IDPs in the state at that time. The figure was updated on July 7, with the IDP total now standing at 190,708.  
"We saw an influx of IDPs after the Tatmadaw announced that it would conduct what it described as 'clearance operations' against the Arakan Army near Kyauktan village in Rathedaung Township," said U Zaw Zaw Tun, secretary of the REC. "Prior to the Tatmadaw's announcement, the number of local people who fled their homes to IDP camps increased to a certain extent." 
Some sought refuge at safer locations even prior to reports of impending "clearance operations" against the Arakan Army. Others fled their homes even after the Tatmadaw retracted its announcement, according to the REC. 
Out of 190,708 IDPs, 62,137 are currently sheltering at 148 IDP camps across Arakan State. The remaining 128,571 IDPs have been displaced to living quarters other than designated camps, according to the figures compiled by the REC. 
"Some residents are still fleeing their villages for fear of being arrested by the Tatmadaw, but some men return home to assess their croplands and farmlands," he added. 
Many IDPs struggle to secure adequate food, shelter and clothing, as well as access to healthcare, education and livelihood opportunities.