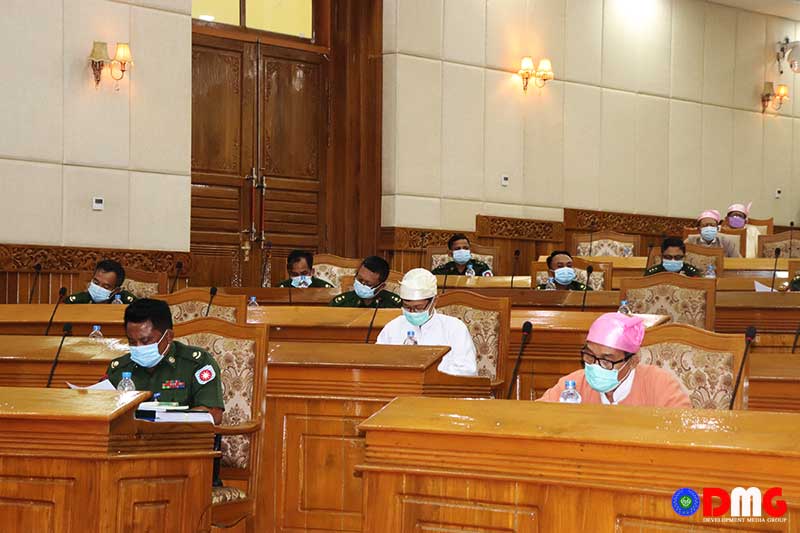 Min Tun | DMG
20 July, Sittwe

Nine lawmakers have been identified on a list issued by the Arakan State legislature as having failed to yet submit any proposals during their five-year terms in office, which wrap up early next year.

By party affiliation, four are members of the ruling National League for Democracy (U Thein Maung, U Bo Nwe, U Win Naing, and U Min Aung); one is a member of the Union Solidarity and Development Party (U Maung Maung Ohn); three are Arakan National Party members (U Tha Tun Aung, U Maung Hla Kyaw and U Hla Aung Nyunt); and one is from the Arakan Front Party (U Tin Maung Win).

Working with less time in parliament, U Tin Maung Win ran for and won a seat as an independent candidate for a Rathedaung Township constituency in the 2018 by-election.

USDP lawmaker U Zaw Zaw Myint from Buthidaung Township Constituency-1 topped the list of MPs who submitted the most proposals, with 11 proposals, according to the parliamentary list.

The MP who raised the most questions was U Mya Than from Myebon Township. He raised more than 180 questions. Two lawmakers from Rathedaung Township raised the fewest questions, U Oo Than Naing from the ANP and U Tin Maung Win now of the AFP.

Lawmaker U Maung Maung Ohn from Ann Township, who served as the chief minister of Arakan State under the U Thein Sein administration, took the most leave during the time period under evaluation.

There are 47 lawmakers in the Arakan State parliament: 12 military MPs and 35 elected representatives.