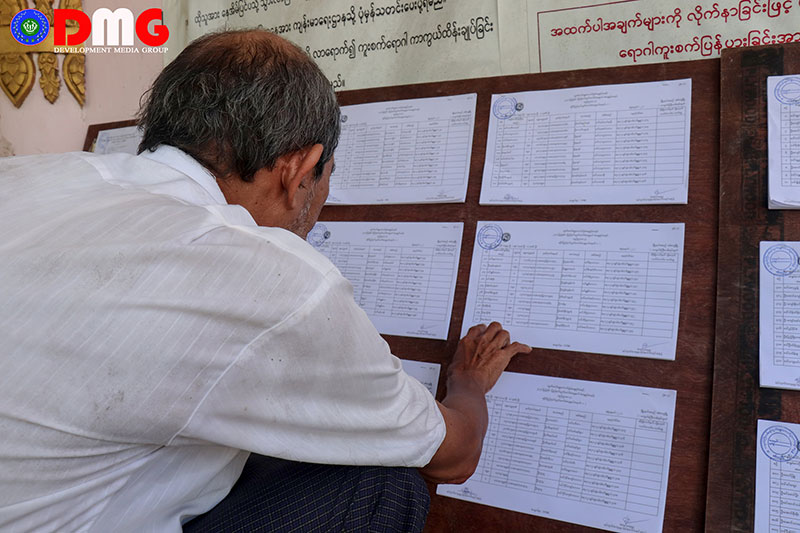 Khin Tharaphy Oo | DMG
9 August, Sittwe 
Six Muslim men from Arakan State's Sittwe and Maungdaw districts have registered to contest the 2020 general election for state and Pyithu Hluttaw seats, according to the candidate list released by the Arakan State election subcommission. 
Five people from the Democracy and Human Rights Party will run for seats, as will an independent candidate, U Abul Kar Hay, who plans to seek election to the Pyithu Hluttaw for the seat representing Buthidaung Township. 
Among the five Democracy and Human Rights Party candidates, U Aung Hla and U Zar For Aulla (aka) U Saw Myint have registered to run in Buthidaung for the township's two state hluttaw seats, and U Kyaw Min (aka) Mahmed Shaung Ru Anaw Rola Hauk has registered to contest the Pyithu Hluttaw seat in Buthidaung Township.  
Nur Muhamed (aka) Aye Win will seek election to the Pyithu Hluttaw in Maungdaw Township and U Adu Rashid will vie for the Pyithu Hluttaw constituency covering Sittwe Township. 
All of the candidates said they had registered to get their names on the ballot with the aim of furthering social cohesion between the Muslim and Buddhist communities in Arakan State. 
"We will work to eliminate violations of human rights and to ensure citizen rights for minorities. The main intention is to build good relations with our brothers, the Arakanese people and Arakan political parties, to re-establish Arakan State," said U Kyaw Soe Aung, secretary of the Democracy and Human Rights Party. 
The independent candidate U Abul Kar Hay sounded a similar note.  
"I am contesting the election with the intention to work for ensuring social cohesion between the two communities in the region," he said. 
Only a handful of Muslims competed in Myanmar's 2015 general election, with several candidates from the Democracy and Human Rights Party and others failing to qualify on citizenship grounds. Ultimately no Muslim candidates won seats in the parliamentary class that took their oaths of office in early 2016. 
The Democracy and Human Rights Party registered candidates to contest 18 seats across the country in the 2015 election, but 15 candidates were rejected, according to the party secretary. 
U Kyaw Soe Aung said he believed the current Union Election Commission would allow a greater cohort of Muslims as candidates in this year's poll. 
U Abul Kar Hay was more cautious in assessing his and his fellow Muslims' electoral prospects, noting that in addition to candidate disqualifications, a large number of Muslims were not allowed to vote in 2015. 
U Abul Kar Hay contested Myanmar's abortive 1990 election for a seat representing Buthidaung Township, and he won a race in 2010 but the election commission rejected his bid for breach of election law.  
The Union Election Commission has announced a November 8 date for the 2020 general election.