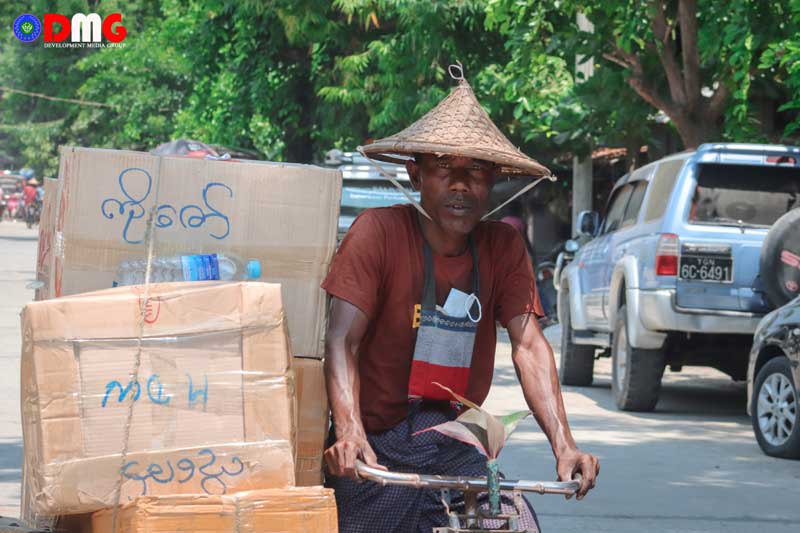 Myo Thiri Kyaw | DMG
25 August, Sittwe 
The government will provide COVID-19 relief payments of K20,000 (US$14.80) to households reliant on irregular incomes in Sittwe, Arakan State, to supplement their livelihoods amid an outbreak of the virus that has locked down the state capital. 
The fund will go to daily wage earners in Sittwe who have seen prospects for work dry up during a mandatory "stay-at-home" order imposed in the township since August 20, said U Win Myint, spokesperson for the Arakan State government. 
The Ministry of Health and Sports issued the lockdown directive as a spate of COVID-19 cases were reported in the state capital. From August 16-25, a total of 81 COVID-19 cases were reported in Sittwe Township. 
U Hla Shwe Maung, a taxi sidecar driver, said a K20,000 relief payment from the government would be useful for him and his family at a time when his normal source of income is unavailable. 
"It is enough for five days for my family. It is enough for three days for a big family. But we would face starvation if we were not provided such aid," he said. 
U Khaing Kaung San, director of the Wan Lark Foundation, said the government needed to provide more for people with irregular incomes, contending that K20,000 could be spent by a typical family in a short period of time.  
The government will provide about K600 million for 29,907 households with irregular incomes in Sittwe Township, to be disbursed through ward administrators.