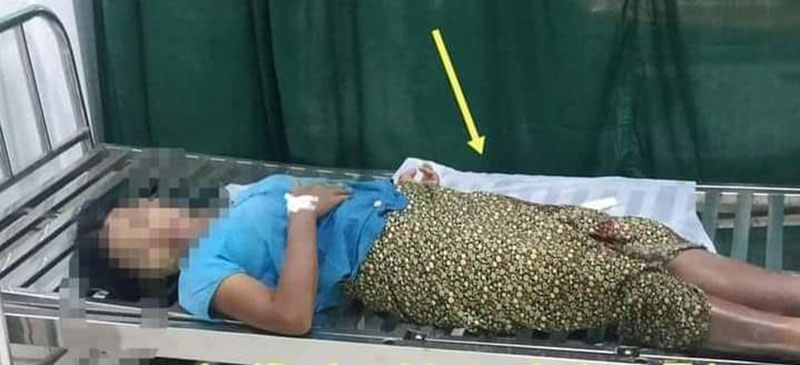 Aung Htein | DMG
27 August, Kyauktaw

A woman was killed and three women were wounded when an artillery shell allegedly fired by the military landed and exploded in Apaukwa village, part of Arakan State's Kyauktaw Township, on August 27.

The four women were hit by shrapnel at about 10 a.m. on Thursday while returning home after gunfire was heard as they were planting rice near the Yangon-Sittwe road south of Apaukwa village, according to a local resident who declined to be named for security reasons.

"The military opened small arms fire in the morning while the four women were planting rice seedlings in the field. They were injured by shrapnel when the military fired heavy weapons while they were returning home in the village," the unnamed source said.

The four women have been identified as Daw Aye Thein Kyawt, 30, Daw Ma Kyawt Sein, 38, Daw Me Kyi, 54, and Daw Mabu, 40, according to village residents.

The injured were sent to Kyauktaw Hospital, where Daw Mabu died on Thursday afternoon.

"The woman was seriously wounded by shrapnel and died from severe blood loss at Kyauktaw Hospital," said a person who assisted her, adding that hospital staff were planning to transfer Daw Mabu to Sittwe Hospital as her condition was considered life-threatening.

Arrangements are being made to take the body of the victim to Apaukwa village for cremation.

Daw Aye Thein Kyawt and Daw Ma Kyawt Sein are currently receiving medical treatment at Kyauktaw Hospital and Daw Ma Kyi was able to return home with only minor injuries, locals said.

Residents accused personnel from a military contingent stationed on the outskirts of Apaukwa village of engaging in small and heavy arms fire near the Yangon-Sittwe road for 20 minutes on Thursday morning.

Military movements and engagements can cause emotional distress for local people amid the ongoing coronavirus pandemic, said Arakan State MP for Kyauktaw Township U Maung Maung.

A total of 191 coronavirus-positive patients were reported in Arakan State from August 16-27, with six people in Kyauktaw Township among those infected.

Meanwhile, a 30-year-old man U Maung Naing Win from Shinywa Ward in Kyauktaw town was reportedly shot dead by military personnel at around 10 p.m. on August 26 while returning home from his elder sister's residence, family members of the victim said.

Another 30-year old man was shot dead by a military patrol unit on the Kyauktaw-Warkin village road. The two suspects attempted to flee the scene when security members called them for interrogations, the Tatmadaw True News Information Team said.