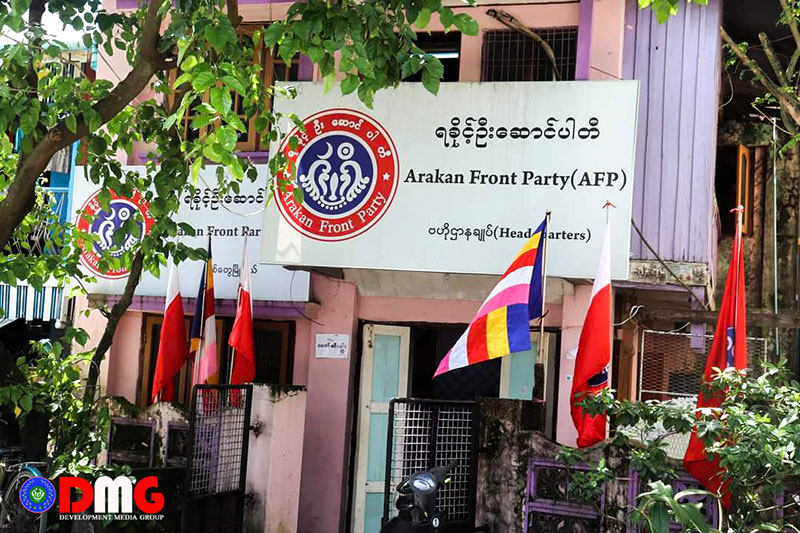 Min Tun | DMG
29 September, Sittwe 
The Arakan Front Party (AFP) will not be taking part in a programme allowing political parties to use state-owned media to communicate their platforms and other election-related messaging, with party officials saying the AFP speech was subjected to censorship. 
The party decided to opt out because the Union Election Commission (UEC) had insisted on striking out sections of the AFP's campaign message, according to U Kyaw Zaw Oo, a party spokesperson. 
"The UEC censored three paragraphs including the words, 'The AFP will overcome difficulties by joining hands with the Arakan people.' That is to say, the speech's essence was removed," he said, adding that the UEC had even removed sections of the speech addressing the party's tasks and objectives, which had been approved since the registration of the AFP. 
The AFP prepared its election speech in conformity with electoral policies and ethics, U Kyaw Zaw Oo maintained. 
Under the election campaign programming offered by the government, political parties' speeches can be broadcast on state broadcaster MRTV and printed in Myanmar's state-run newspapers, subject to a vetting by the UEC. 
The AFP will instead carry out canvassing activities and explore other channels through which it can communicate freely with voters, party officials said. 
DMG sought comment from the UEC on the alleged censoring of the AFP election speech, but the commission was not available.   
Two other Arakan State-based parties — the Arakan National Party (ANP) and the Arakan League for Democracy (ALD) — have also reported facing censorship issues, but both pressed ahead with the airing of bowdlerised speeches.  
With in-person campaign activities in Arakan State largely prohibited due to the coronavirus pandemic, the UEC's use of the censorship pen has been criticised as stifling one of the few means of reaching a mass audience that political parties have this election season.