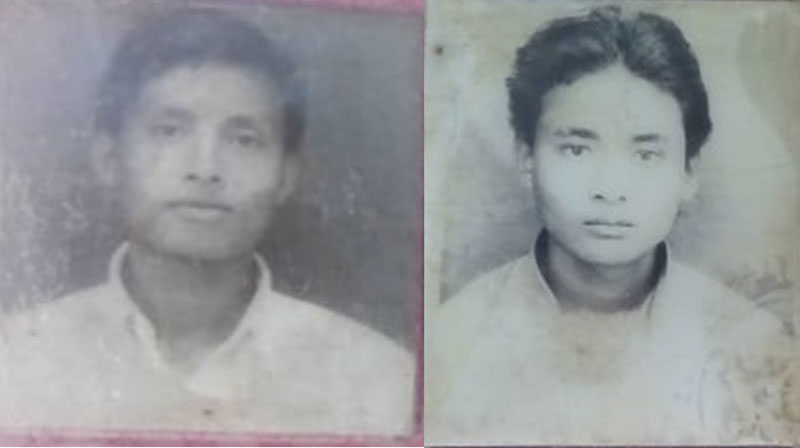 Aung Htein | DMG
4 October 2020, Sittwe
A recent Tatmadaw announcement that two arrested residents of Theintan village in Sittwe Township are members of the Arakan Army has been rejected by the detainees' families.
The military announced on October 4 that soldiers on duty had conducted a search and inspection process in Theintan village on October 1 after compelling information was provided to them by some villagers.
U Kyaw Maung and U Win Htay, both 44 years old and from Theintan village, had been collecting extortion money and food supplies from local villagers and sending them to the Arakan Army, the Tatmadaw said in a statement.
The statement further alleged that the Tatmadaw uncovered the two villagers' illicit activities during its troops' search and inspection, along with corroborating evidence.
But family members said the two men are not AA members and have neither relations nor contact with the ethnic armed group in any form.
"My brother has done nothing at all relating to the AA. It is just the Tatmadaw's accusation," said U Kyaw Maung's sister, Daw Yi Yi Win.
About 50 soldiers from Sittwe-based Light Infantry Battalion No. 353 detained the villagers on October 1, saying they needed to take the men in for questioning, according to family members.
The families said U Kyaw Maung is a trishaw driver and U Win Htay is a carpenter in the village.
The two men are currently being held at the No. 2 police station in Sittwe Township and family members say they have not been allowed to meet with them.
South of the Arakan State capital, Tatmadaw soldiers detained Maung Shwe Kyee aka Min Hsan Mon, 24, and U Nyi Maung Chay, 31, from Padar village in Taungup Township on October 1.
The two Padar villagers were also collecting money and food supplies and sending them to the AA, the Tatmadaw said in its October 4 statement.
"I think my husband gave the answers out of fear and due to their torture. These are just their accusations and my husband has no such relations [with the AA]," said Daw Yi Yi Thein, the wife of U Nyi Maung Chay.
The two arrested men from Padar village were reportedly taken to neighbouring Ann Township, their family members said.
The Tatmadaw announced that the detainees had been handed over to responsible officials and that steps were being carried out to take necessary legal action.