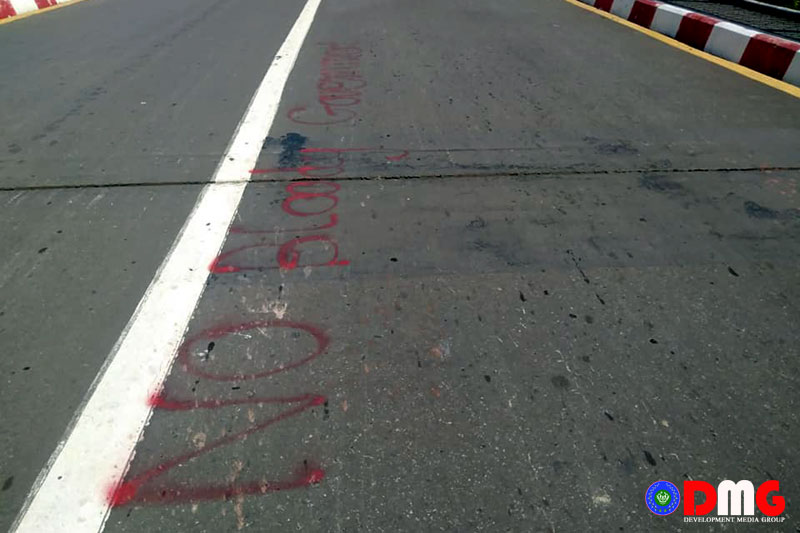 Nyan Hein | DMG
7 October 2020, Sittwe
Discreet anti-government and anti-military campaigns have been reported in the Arakan State townships of Sittwe, Taungup, Ramree and Minbya, following the arrest and prosecution of anti-war demonstrators in the state capital Sittwe and elsewhere in Myanmar over recent weeks. 
According to local residents, slogans like "Let's oppose fascism," "No Bloody Government," "Stop civil war immediately" and "Down with fascist military" have begun cropping up either spray-painted on walls and bridges or stuck to lampposts and traffic lights in the aforementioned townships. 
It remains unclear which organisations or individuals are behind the campaigns.
Word of the campaigns in those townships also reportedly prompted the Kayah State Students Union to undertake a similar effort in the Kayah State capital Loikaw on Tuesday, with students there affixing placards on lampposts, traffic lights, and around Naung Yar and Htay Hlar lakes, popular spots in the city. Placards reading "No internet shutdown in Rakhine," "No Bloody Government," "No Murder Army," "No Trust in Arakan State government," "Stand with Arakan people" and "Oppose fascism." 
"We support the campaign and we are grateful for it. We feel encouraged by the campaigns, which show people standing by the truth. We would like to ask more people to join us," information officer Ko Kyaw Naing Htay of the Arakan Students' Union told DMG.
Three leaders of the Arakan Students' Union were detained last month and are facing trial under Section 19 of the Peaceful Assembly and Peaceful Procession Law after staging an anti-war protest in front of the Arakan State government offices in Sittwe. The students also demanded that the government restore access to 4G mobile internet in several Arakan State townships and Chin State's Paletwa Township, where those services are currently denied. 
Students from the All Burma Federation of Student Unions (ABFSU) in Mandalay carried out a similar protest following the demonstration in Sittwe, with some of those activists likewise facing legal trouble as a result.