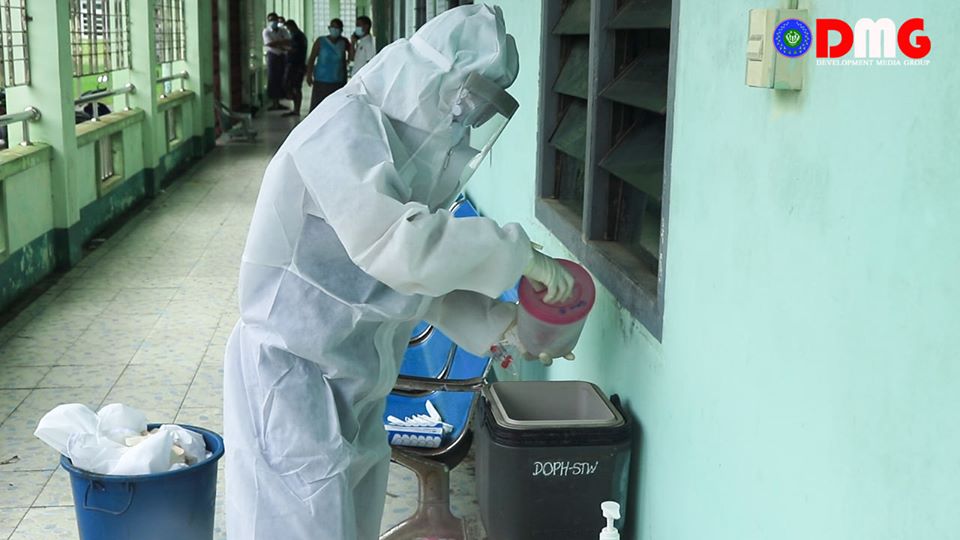 Nyan Hein | DMG
7 October 2020, Sittwe
A Rural Road Development Department director who had been receiving treatment for COVID-19 at Sittwe General Hospital succumbed to the disease on October 7.
Hospital Superintendent Dr. Zaw Lwin told DMG the person who died on Wednesday morning was a 48-year-old man who had been given oxygen in the hospital's intensive care unit.
"With the individual who died this morning, there are already five people who were all given oxygen and died," Dr. Zaw Lwin said.
One patient in Kyauktaw Township and another in Pauktaw Township have died, and with five in Sittwe, there are seven reported coronavirus-related deaths in Arakan State so far.
There are 1,813 COVID-19 infected patients in Arakan State, with 1,458 having been discharged from hospitals and 355 remaining in treatment, the Rakhine Breaking News has reported.
COVID-19 patients receiving supplemental oxygen at Sittwe General Hospital will be treated with blood plasma from those who have recovered fully from the disease, Dr. Zaw Lwin said previously.
People in Sittwe have been told not to leave their homes unless absolutely necessary as a coronavirus outbreak that began in mid-August, centred in the Arakan State capital, continues. 
The number of COVID-19 patients as of 8 p.m. on October 7 was 21,433 nationwide, of whom 6,084 had been discharged from hospitals. A total of 510 patients had died, according to the Ministry of Health and Sports.