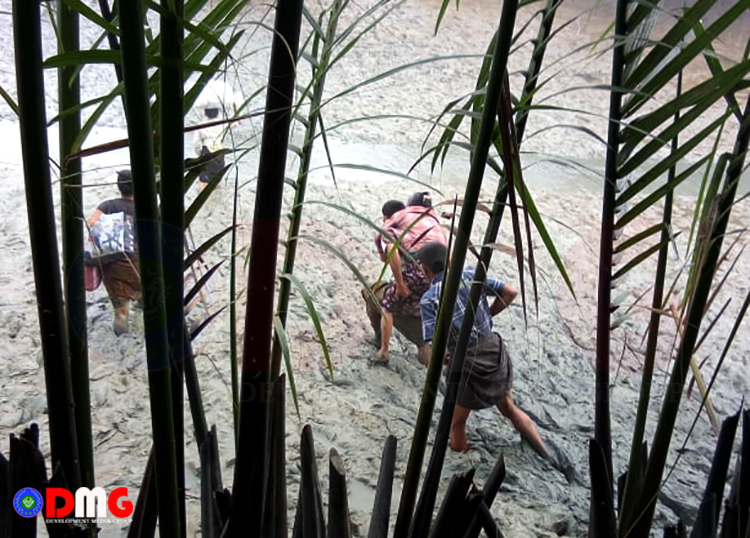 Myo Thiri Kyaw | DMG
14 October 2020, Rathedaung 
The number of internally displaced people (IDPs) in Rathedaung Township, Arakan State, has risen by more than 3,000 in just over a week, according to a local lawmaker, IDP camp officials and area residents, as fierce clashes between the Tatmadaw and Arakan Army (AA) continued this week.   
More than 2,000 people arrived at the Zedipyin IDP camp in Rathedaung Township from October 12-13, with the IDPs in need of food and accommodation, said U Khin Maung Latt, the Upper House lawmaker representing Rathedaung Township.   
"The influx of additional IDPs makes the situation more difficult. The government must provide assistance to the IDPs amid the ongoing coronavirus pandemic. There is no government support and the number of IDPs is increasing," the MP said.  
Residents of some villages on the west bank of the Mayu River in Rathedaung Township, including Autkyaungtaung, Saphokyun, Aungzaygone, Pyinwun and Kanpyin, have fled their homes in recent weeks. 
The Zedipyin IDP camp previously hosted about 4,000 IDPs, but with the latest influx there are more IDPs than residents of the adjacent village that the IDP camp is named after, locals said. 
Since September 9, more than 400 IDPs have been relocated to Rathedaung Township's Kyetyoesis camp, where donors are unable to contribute relief items due to travel restrictions, said camp in-charge U Than Tun Win.  
"Donors do not come to the camp due to transportation barriers. We travel by boat to bring food supplies from Yaypaikson camp about once a week," he added. 
The number of IDPs in Rathedaung Township's Yaypaikson camp has increased by about 300 this week, said camp official Ko Aung Naing, who added that camp residents are living in poverty and worrying about their health due to overcrowding at the displacement camp.   
"We can no longer be afraid of the COVID-19 pandemic. More than 800 people are currently taking shelter in a monastery. There are concerns about the health of IDPs. We have difficulty finding a place to live," he said.  
The IDPs once resided in Shwelaungtin, Myinkanchaung, and Kanpyin villages, but have fled to safer locations due to gunfire along the Mayu River in Rathedaung Township this month, he explained. 
The 23 or so IDP camps in Rathedaung town have seen an increase in their populations this week and IDPs there too are facing livelihood hardships, said Ko Bekka, who is assisting the IDPs.  
"The more IDPs, the fewer the donors, and the donors haven't come to the IDP camps due to travel restrictions amid the COVID-19 pandemic," he said. "I would like to ask civil society organisations to provide the IDPs with food supplies."  
The number of IDPs in Arakan State has climbed to more than 226,000 as the Tatmadaw-AA conflict enters its unofficial third year later this year, according to figures released by the Rakhine Ethnics Congress (REC) on October 1.