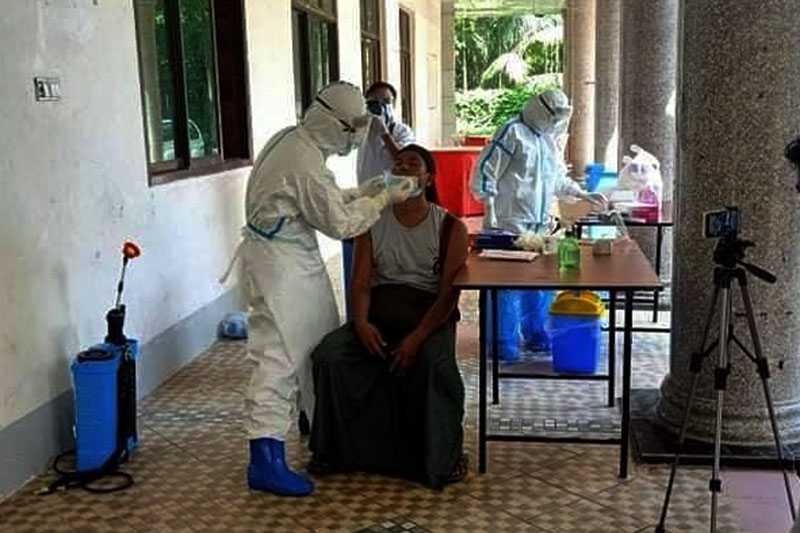 Nyan Hein | DMG
20 October 2020, Sittwe 
Two sexagenarians succumbed to COVID-19 at Sittwe General Hospital this week, bringing the statewide death toll from the disease to 14, according to Dr. Soe Win Paing, assistant director of the Arakan State Public Health Department.  
"One yesterday, and another one died this morning," he said on Tuesday of the 60-year-old man and 62-year-old woman who passed. "Most of the dead had other diseases. One dead patient was from a military hospital." 
Sittwe General Hospital's medical superintendent, Dr. Zaw Lwin, told DMG that the two patients who died this week were treated with oxygen in the hospital's intensive care unit. 
"It is true that the two have passed away and were among the patients being given oxygen. We are checking whether they had other diseases already," Dr. Zaw Lwin said. 
Of Arakan State's 14 coronavirus-related fatalities, five were from Kyauktaw Township, one was from Pauktaw Township and eight were from Sittwe Township. One of the patients who died at Sittwe General Hospital was from Kyauktaw, according to the Arakan State Public Health Department.  
As of October 19, there had been more than 2,400 COVID-19 patients in Arakan State, out of which 1,920 were discharged and more than 460 are under treatment, according to Rakhine COVID-19 Watch. 
Dr. Zaw Lwin previously told DMG that COVID-19 patients receiving supplemental oxygen at Sittwe General Hospital would be treated with convalescent plasma from patients who have fully recovered from the disease.  
There were 37,205 recorded COVID-19 patients nationwide as of Monday evening, according to the Ministry of Health and Sports, with 17,568 of those cases having been discharged from hospitals. A total of 914 people have died, the ministry said.