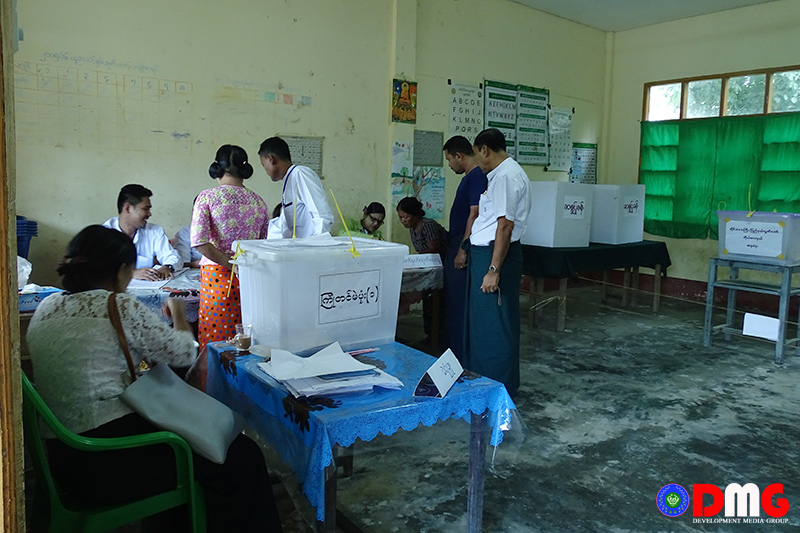 Min Tun | DMG
28 October 2020, Sittwe 
The seven village-tracts in Arakan State's Ann and Kyaukphyu townships that the Union Election Commission (UEC) recently green-lighted to hold elections are notable for their stationed military presences, according to candidates in the townships. 
In an announcement on October 27, the UEC reversed course on the seven village-tracts, which it had previously included on a list of constituencies where elections would not be held next month.  
The recently re-enfranchised constituencies include the village-tracts of Ann (north), Aut, Lonekaut and Ann (south) in Ann Township, and Gonechein, Sittaw and Awataung village-tracts in Kyaukphyu Township. 
"Places where the military has bases have been added to the election list," said U Soe Thein, an Arakan League for Democracy candidate for the Pyithu Hluttaw seat in Ann Township. "As there has not been any additional polling stations at civilian places, there are difficulties. The military constituencies constitute about half of the ones for civilian voters."  
U Soe Thein said there are military supply and transport regiments in Lonekaut village-tract, and the Tatmadaw's Western Command headquarters is located in Aut village-tract. Artillery Regiment No. 373 and a battlefield medical battalion are stationed in Ann (north) village-tract, and provost units are based in Ann (south) village-tract, he added.   
Prior to restoring voting in the four village-tracts this week, the UEC had listed a total of three wards and 29 village-tracts as being no-vote zones in Ann Township. Some local residents have insisted that almost all of the enumerated nonvoting village-tracts are able to safely hold elections, with the exception of Dar Let Chaung and Kazukaing village-tracts, where there has been recent fighting. 
In neighbouring Kyaukphyu Township, voting was restored in similarly militarised village-tracts, according to U Kyaw Lwin, who is contesting the Amyotha Hluttaw seat covering Kyaukphyu as an independent. He said the Taung Maw Gyi Naval Base is located in Awataung village-tract, the Thitpoke Taung Naval Base is in Sittaw village-tract, and Light Infantry Battalion Nos. 542 and 543 have stations in Gonechein village-tract. 
"I don't see that they are willing to get the people's vote and want the people to vote. If they really want people's votes, they must hold elections in all places — in all places where no fighting is likely to take place. I see they want the votes from the Tatmadaw as they added elections in the places where the Tatmadaw is based," he said. 
Last week a landmine blast killed at least one member of the security forces and injured four others in Awataung village-tract.  
Nine Arakan State townships in their entireties, and 15 urban wards and 137 village-tracts in four other townships in the state — Ann, Kyaukphyu, Taungup and Sittwe — were on the initial list of cancelled constituencies announced by the UEC on October 16.    
The general election will be held on November 8.