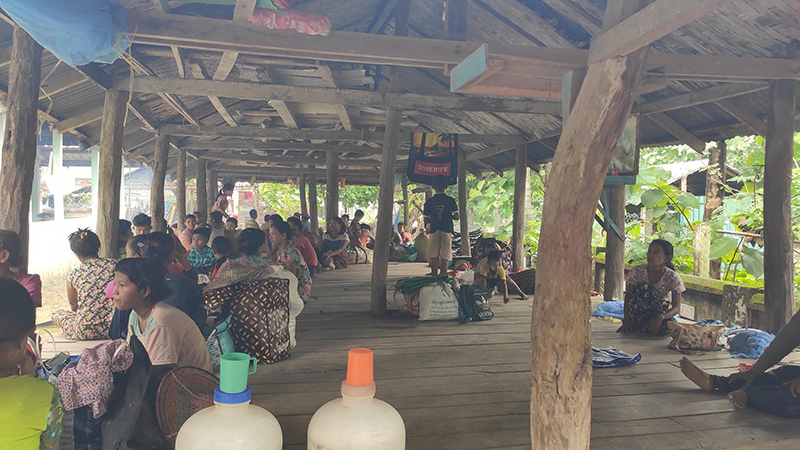 Hnin Nwe | DMG
2 November 2020, Sittwe

The internally displaced person (IDP) camp at Kanhtaunggyi town in Arakan State's Myebon Township is facing a rice shortage, making already difficult livelihood situations even more acute.

The camp's secretary, U Win Hla Maung, told DMG that there were more than 1,300 IDPs at the camp, who have seen their per person daily rice allocation significantly scaled back due to a looming depletion of supplies.

"We cannot give them [rice] as usual and there will be nothing left to give them once the stock is gone," he said.

The Kanhtaunggyi camp has been sheltering war-displaced populations from about 40 villages in Myebon and Ann townships.

Ma Hla Nu Wai, a camp resident from Sinohtaik village in Kazukaing village-tract, said though civil society organisations had regularly provided kitchen-consumer goods once a month, the rice ration for the camp was not enough.

"Consumption is not uniform among the refugees; there are some who are sufficient with the rice ration from the camp and there are also many who are not sufficient. Some families with big members have to borrow from others as they are not getting enough with the quotas," she said.

"Rice is more important than other goods. We are happy if we just get rice sufficiently. We, the refugees, would like to ask the donors to give us rice so that a shortage like this will not happen again,'' she added.

People assisting the IDPs said in the past they had travelled to other villages to collect money for those displaced, but they could not do so at the moment due to COVID-19 travel restrictions, U Win Hla Maung said.

The number of IDPs in Arakan State has climbed to 236,229 due to ongoing clashes between the Tatmadaw and the Arakan Army over the past two years, the Rakhine Ethnics Congress (REC) reported on November 2.