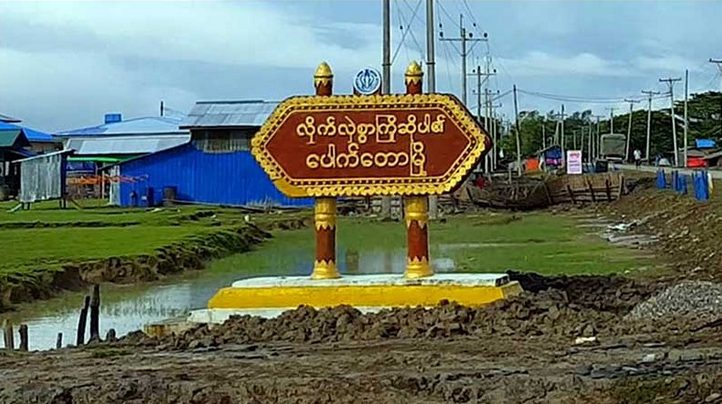 Nyan Hein | DMG
2 November 2020, Sittwe 
Pauktaw Township residents are on edge and some have fled their homes in recent days amid continuing heavy weapons fire in the township, which had been an uncommonly peaceful pocket of Arakan State until last week.  
"Up to yesterday [November 1], we were hearing heavy firearms," said Ko Aung, an executive committee member of the Pauktaw Ludu Centre, a civil society organisation. "We don't want any more conflicts in our region, especially during the COVID-19 pandemic, when people have been suffering from food shortages." 
Ko Kyaw Thet Khant of Kyaw Shin village said two Tatmadaw boats on October 29 began launching artillery from the Pauktaw River about 4 miles from Kyaw Shin village, upriver from the town of Pauktaw.   
"We are hearing the firing of heavy guns up till today [November 2]. Those injured are returning to their villages. The villagers are worried. They have now built bunkers at their homes," he said. 
Daw Khin May, also from Kyaw Shin village, said there were some villagers who fled to Pauktaw town due to the artillery barrage. 
"There are people who ran away from the villages after the heavy arms fire. We were concerned when we heard the firings, which came from the Minbya area. Those who left have not returned to the village as they are very afraid," she said. 
At least five people were injured and some houses destroyed in Kyaw Shin village due to the attack from the Pauktaw River on October 29, according to locals. 
Arakan State Hluttaw representative U Aung Kyaw Htwee said shops had to be shuttered in Pauktaw town due to the heavy weapons fire. 
There were 2,323 internally displaced people (IDPs) at urban wards and the villages of Kan Chaung, Kan Seik, Na Gwe, Sarpyin, Na Bwe and Kyaw Shin in Pauktaw Township, according to information available from the Rakhine Ethnics Congress, which has been collecting data on IDPs. 
On November 2, the REC announced that there are about 236,229 IDPs in Arakan State due to ongoing conflict between the Tatmadaw and the Arakan Army.