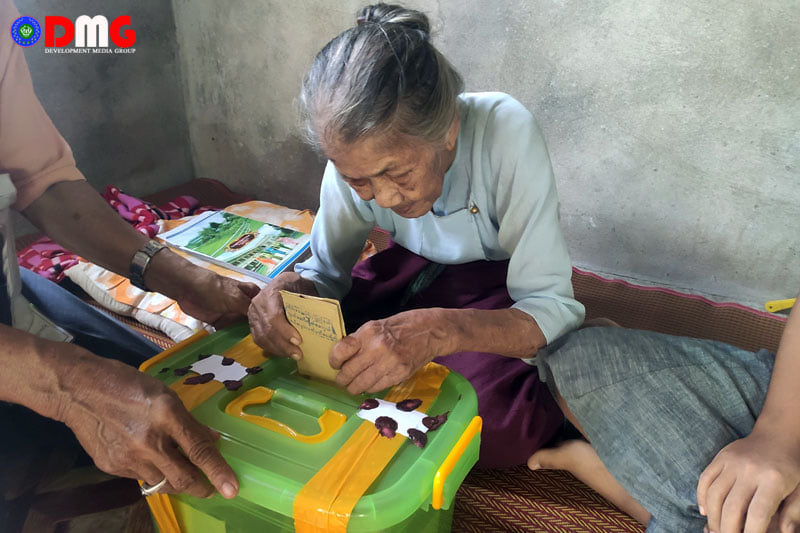 Min Tun | DMG
6 November 2020, Kyaukphyu

About 44,000 voters who are 60 years and older have cast advance votes in Arakan State's Kyaukphyu and Thandwe districts, according to figures from the respective district election subcommissions.

Up to November 4, the number of elderly advance voters had totaled 21,147 in Kyaukphyu District, and 23,042 elderly in Thandwe District had cast their ballots up to November 3, putting the total advance voters at about 44,189.

"When we collect advance voter lists, there were those who like to vote and there were also those who did not want to give advance votes. It's 50-50. Some said they would prefer to come to polling stations on Election Day," said U Htay Aung Khaing, secretary of the Kyaukphyu District election subcommission.

The election commission had been collecting advance votes for voters 60 years and older from October 29 to November 5 nationwide.

Kyaukphyu District has 177,830 voters and 354 polling stations. Thandwe, Taungup and Gwa townships are included in the district.

The Union Election Commission has announced Pauktaw, Ponnagyun, Rathedaung, Buthidaung, Maungdaw, Kyauktaw, Minbya, Myebon and Mrauk-U townships as the townships that would not be able to hold election. Several wards and village-tracts in four other townships have also been declared as not in a condition to have election, with prior conflict being the ostesnsible reason for the vote cancellations.

More than 1.2 million voters were disenfranchised out of over 1.64 million eligible voters in Arakan State, according to the state election subcommission.