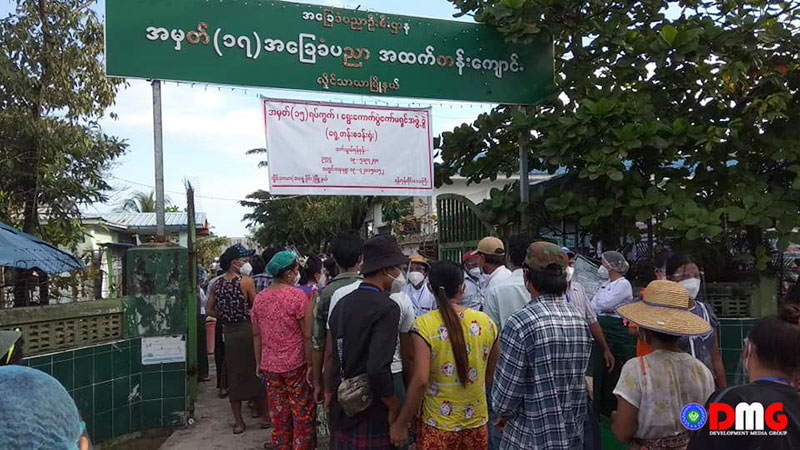 Khaing Min Nyo | DMG
8 November 2020, Yangon

Some Arakanese people in Yangon have complained that they were not able to cast ballots for the Arakanese (Rakhine) ethnic affairs minister post in Yangon Region.

"As Arakanese people, we would like to vote very much for our minister. ... Though I got to cast ballots for three seats, I didn't get the chance to vote for the minister," said Ma Ei Mon, an Arakanese woman who lives in Yangon's Hlaingthaya Township.

Daw Htoot May, an independent candidate running for the Arakanese ethnic affairs minister seat, said Ma Ei Mon was not alone. Many Arakanese were given ballots for the Amyotha Hluttaw, Pyithu Hluttaw and Yangon Region Hluttaw races in their constituencies, Daw Htoot May said, but because their names were not on lists of eligible voters for Yangon's Arakanese ethnic affairs minister, they were not given ballots to cast for the post.

"Arakanese people have been discriminated against," Daw Htoot May added.

"This malady [problem] has occurred since the advance voting period," said U Oo Myint Kyaw, the Arakan National Party's ethnic affairs minister candidate.

There are more than 110,000 Arakanese voters in Yangon Region, and similar issues were reported across many of the region's 45 townships.

U Tin Htoo Aung, an independent candidate contesting for the Arakanese ethnic affairs minister post, even had trouble voting for himself in the race, and tried presenting his national registration card to the respective election subcommission as proof of his eligibility.

"The commission had called the secretary to arrange for it. However, we heard there were difficulties due to [personal matters]. The UEC should be accountable and responsible for this issue. There are losses of citizens' rights due to the weakness of the UEC [Union Election Commission]," he said.

U Oo Myint Kyaw from the Arakan National Party, Daw Khin Myo Oo from the National League for Democracy, and independent candidates Daw Htoot May, U Tin Htoo Aung and Dr. San Hla Kyaw competed for Yangon Region's Arakanese ethnic affairs minister post in the 2020 general election.