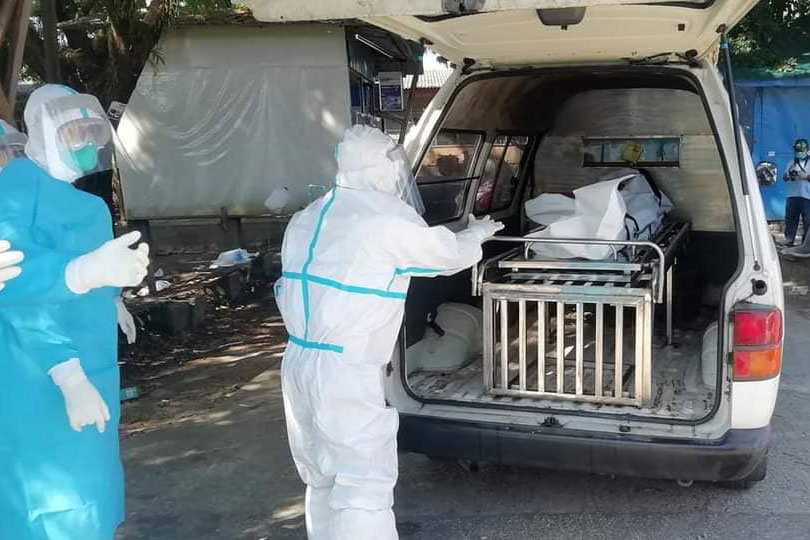 Kyaw Thu Htay | DMG
9 November 2020, Sittwe
A COVID-19 patient receiving medical treatment at Arakan State's Kyaukphyu Hospital died on November 9, according to the hospital's medical superintendent.
The 23-year-old male was also diagnosed with tuberculosis and died of asphyxiation on Monday morning after being treated at Kyaukphyu Hospital since November 3, said Dr. Zaw Lwin Maung, medical superintendent of the hospital. 
"The patient died of asphyxiation because he was initially on TB [tuberculosis] medication. He was receiving medical treatment at Kyaukphyu Hospital after he tested positive for coronavirus on November 3," Dr. Zaw Lwin Maung explained.
Two people have died of COVID-19 in Kyaukphyu Township since the pandemic began early this year, and 10 coronavirus-positive patients are currently being treated at Kyaukphyu Hospital, according to its medical superintendent. 
With the fatality on November 9, the COVID-19 death toll in Arakan State stands at 22. As of Monday morning, there were 2,972 confirmed cases of COVID-19 in Arakan State, with 2,834 recovered patients discharged from hospitals statewide. 
Of the 138 coronavirus-positive patients currently hospitalised in Arakan State, 27 of them are being treated at Maungdaw Hospital, which is treating the highest number of infected people, said Dr. Soe Win Paing, assistant director of the Arakan State Department of Public Health. 
As of 8 p.m. on November 8, Myanmar reported 61,377 confirmed COVID-19 cases, with 1,420 deaths, according to data compiled by the Ministry of Health and Sports.