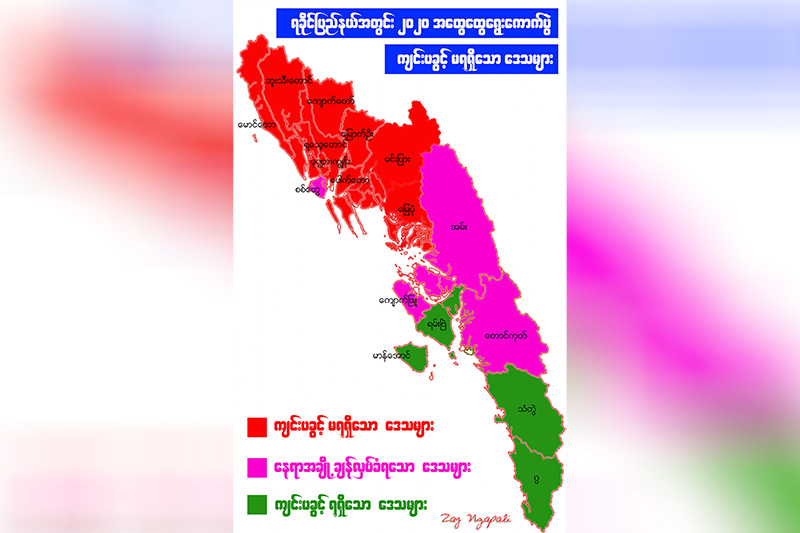 Aung Htein | DMG
11 November 2020, Sittwe

The European Union has called for holding by-elections "at the earliest possible" in constituencies where the 2020 general election did not take place on November 8.

Monday's statement was issued by the 27-nation bloc's spokesperson for foreign affairs and security policy, who said the polls also "mark another important milestone in Myanmar's democratic transition."

"Looking further ahead, we call on the Myanmar authorities to improve the electoral regulatory framework consistent with international standards and best practices," the spokesperson added. "This would strengthen people's trust in the electoral process and reinforce its credibility. The European Union stands ready to continue to assist Myanmar in this endeavour."

On October 16, the Union Election Commission (UEC) announced a list of constituencies across the nation, including a majority of townships in Arakan State, where elections could not be held on Sunday for security reasons.

The UEC cancelled elections in the entireties of nine townships in northern Arakan State, as well as several wards and village-tracts in Sittwe, Kyaukphyu, Taungup and Ann townships.

Whether by-elections take place in the areas where voting was not held on Sunday is a matter in the hands of the UEC, noted Daw Aye Nu Sein, spokesperson for the Arakan National Party (ANP).

"The decision to hold the by-election is concerned with the UEC no matter how the Tatmadaw advises," she said.

During a press conference in Nay Pyi Taw on November 11, UEC member U Myint Naing told reporters that by-elections would soon be held in the areas left out of the recent election depending upon the security situation on the ground.

"If we see a 'free and fair' situation in these areas, under the law, we will hold the election. Now, we always demand the remarks and recommendations from relevant security organisations and administrative bodies as to whether these areas are in good situations. Depending on their recommendations, we will hold the election," said U Myint Naing.

At present, the Arakan National Party (ANP) says it has won the majority of seats in the eight Arakan State townships holding partial or full voting on November 8 — the townships of Sittwe, Ann, Taungup, Ramree, Manaung, Gwa, Kyaukphyu and Thandwe.