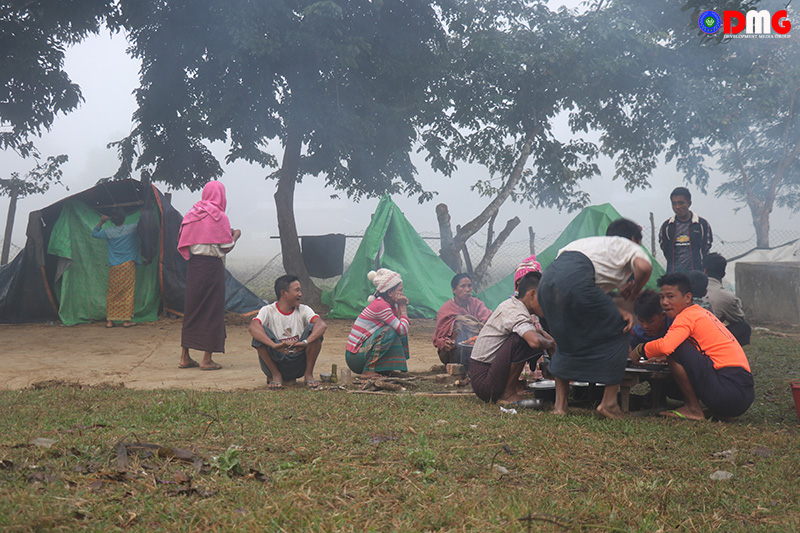 Myo Thiri Kyaw | DMG
17 November 2020, Sittwe

Blankets and warm clothes are needed this cold season for people internally displaced (IDPs) by fighting between the Tatmadaw and the Arakan Army in Arakan State.

The camp in-charge of Kanhtaunggyi IDP camp in Myebon Township, U Win Hla Aung, said more than half of Kanhtaunggyi's 1,300 IDPs have no blankets or warm clothes for the coming cold season.

"Pregnant women, elderly persons and children don't have warm clothes. Those living here previously have warm clothes. There is hardly one blanket per family. As the cold season is about to arrive, some are not feeling well. They are sneezing, coughing and some have fever," he said.

Ko Ann Thar Gyi, who has been helping IDPs, said there were also shortages of blankets at Ann Thar village IDP camp, where more than 1,000 people from Minbya Township have taken refuge.

"An organisation came to donate blankets in October but it was not enough as the camp has accommodated so many people," he said.

"As the number of donors to our camp is small, we have more difficulties," he added. "Apart from the warm clothes, the refugees are facing difficulties in livelihoods. It is not enough that only our organisation has been helping with their livelihoods."

Another camp, called Nyaungchaung in Kyauktaw Township, has seen many IDPs arriving this year with their health conditions deteriorating due to lack of warm clothes and blankets, according to camp in-charge Ko Khaing Myo Aung.

"We have 30 to 50 people who are not feeling well. Only if the blankets arrive now will it be in time for the coming cold season," he said.

U Maung Aye Chay, the camp in-charge of Yay Phyu Kan IDP camp in Ponnagyun Township, said although his camp was built by the government, it is hardly faring better in terms of provisions, with the government only supplying residents with rice.

"Though it is a government camp, rice is the only item being provided. There are no other consumer goods. Now, we are entering the cold season. There is no other assistance. If they [government] do not provide, we have nothing to wear," he said.

The number of IDPs due to the conflict has surpassed 236,000, according to figures from the Rakhine Ethnics Congress.