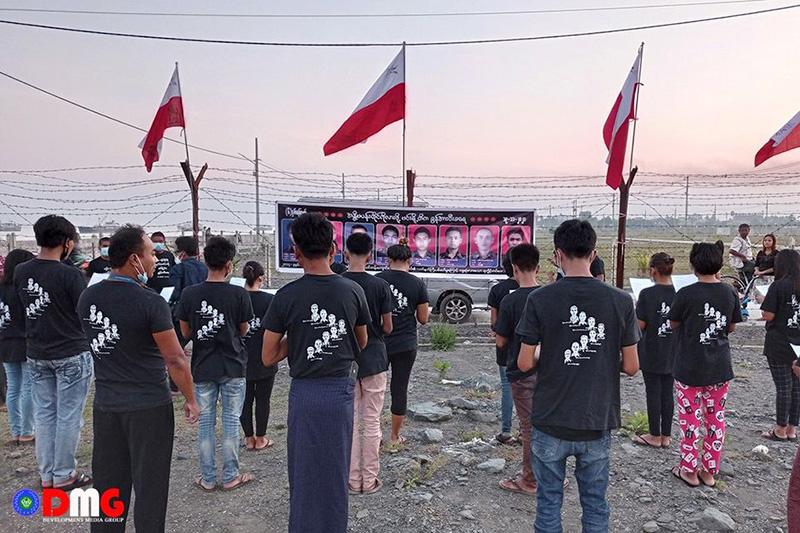 Aung Htein | DMG
20 November 2020, Sittwe

A participant of a memorial service held this week for eight Arakan Army cadets killed in a 2014 Tatmadaw attack on a Kachin Independence Army (KIA) training school in northern Myanmar has been arrested, according to sources.

The participant, U Ah San Maung, was detained by two Special Branch (SB) police officers at his residence in Sittwe's Aung Mingala ward on November 20 at 1 p.m., family members said.

"I met with him. He said he was asked who led the gathering. He replied to them that he had no idea," said Daw Kyawt Sein, who was able to see U Ah San Maung following his arrest.

The detainee is reportedly being held at Sittwe Police Station No. 1 in the Arakan State capital.

DMG attempted to communicate with the station to ask about the detention of U Ah San Maung, but police there could not be reached.

Thursday's ceremony, which included a one-minute moment of silence to honour the fallen cadets and singing of the Arakan national song, was held at Sittwe's BXT jetty.

About 50 people participated in the memorial gathering.

The Tatmadaw attack on the KIA training academy in Laiza, Kachin State, on November 19, 2014, killed a total of 23 cadets from four ethnic armed groups, including the Arakan Army.