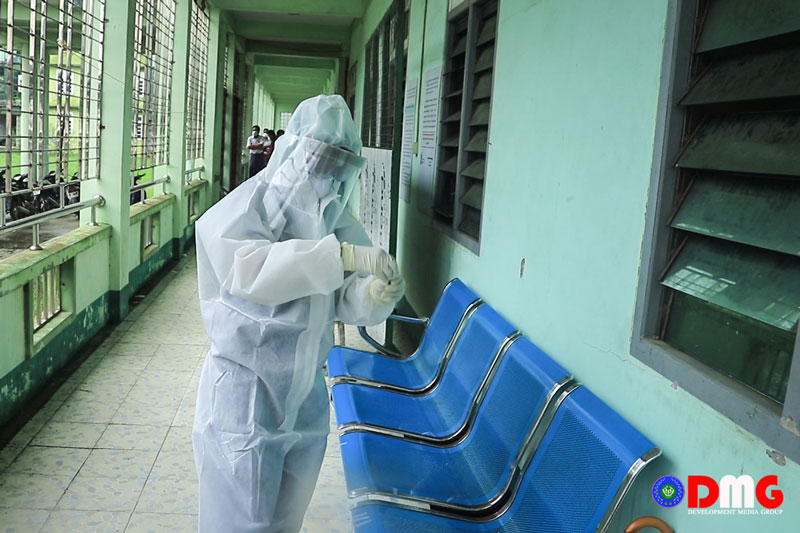 Kyaw Thu Htay | DMG
21 November 2020, Sittwe
A female COVID-19 patient with no comorbidities died at Sittwe General Hospital in the Arakan State capital on November 20, according to the Arakan State Department of Public Health (DPH).
The 47-year-old from Pauktaw Township was hospitalised on November 9.
The patient died of asphyxiation on Friday while being treated at the main hospital in Sittwe, said Dr. Soe Win Paing, assistant director of the state DPH.
"A woman from Pauktaw Township died of asphyxiation due to COVID-19 without any other illness. She was admitted to Sittwe General Hospital on November 9 and was treated at the hospital for 12 days," the health official said.
The vast majority of COVID-19 fatalities in Myanmar and globally have involved patients who had at least one other underlying condition, such as hypertension or diabetes. The death rate from COVID-19 is less than 1% in Arakan State, Dr. Soe Win Paing said, while adding that it must be acknowledged that an otherwise healthy individual can die from the disease.
"The death toll from COVID-19 was only 0.7%, with seven deaths per 1,000 people. But we must also accept the deaths caused by COVID-19," he said.
As of November 21, the death toll from the coronavirus in Arakan State stood at 28, including the Pauktaw woman. The Ministry of Health and Sports has urged the public not to travel or gather unnecessarily to prevent the spread of the deadly virus.