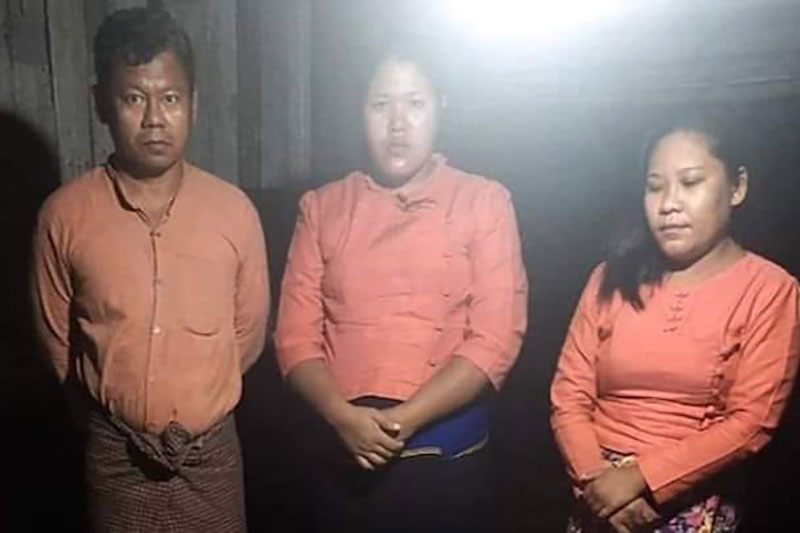 Min Tun | DMG
1 December 2020, Taungup 
Though it has been 47 days since the Arakan Army abducted three National League for Democracy (NLD) candidates in Taungup Township, Arakan State, there has been no contact with the kidnapped trio, according to NLD spokesperson Dr. Myo Nyunt. 
The Arakan Army arrested the three NLD parliamentary hopefuls — Daw Ni Ni May Myint, U Min Aung and Daw Chit Chit Chaw — during their election campaign swing through Phaung Khar village in Taungup Township on October 14.  
"There is no information. As the AA has arrested them, we have no information about them. Their families have not been given any information," said Dr. Myo Nyunt. 
The NLD has issued two statements demanding the unconditional release of the party members, he noted. 
Because the Arakan Army has been declared a terrorist organisation, the NLD could not make contact with the group as a political party, Dr. Myo Nyunt said.  
"If they [detainees] are treated well in the hands of the AA, we thank them. We'll be happy if they come back alive. We don't want anything else. We want our daughter back safe and well. We want for their release as soon as possible," said Daw Mya Yi, a relative of the detained Daw Ni Ni May Myint. 
The Arakan Army announced on November 21 that they had not mistreated the NLD candidates, and signalled a willingness to release the trio under the right circumstances. 
The AA has also demanded the release of people it deems to have been wrongfully imprisoned in Arakan State.  
"We will release the three of them if the NLD government release [sic] politicians, students and innocent people without exception who have been arrested and detained unlawfully for demanding peace," said a fiery AA statement on October 19, less than a week after the abduction.