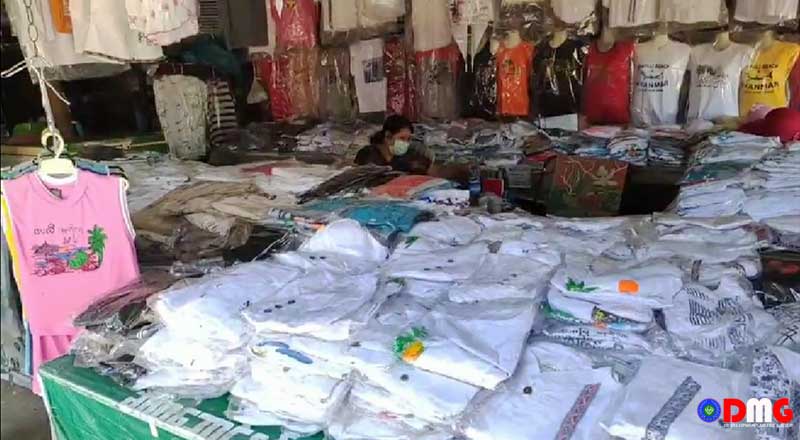 Myo Myint Zaw | DMG
7 December 2020, Thandwe

Souvenir wholesalers and retailers are facing livelihood difficulties as few travellers are visiting Ngapali Beach in Thandwe Township, Arakan State's premier seaside destination, amid the COVID-19 pandemic.
Daw Khin Htay Yee, a wholesaler of trinkets and ornaments fashioned from seashells and cowries, said the numbers of foreign and domestic visitors were high before the coronavirus dealt a devastating blow to the souvenir business.
"Some gift items were sold in March, but the business stopped later and the daily lives of all people in the industry are not as easy as before the COVID-19 outbreak," she said.
Some souvenir retailers are also without those tourism-related jobs these days, and have had to take any wage-earning opportunities available, residents said.
"I cannot generate income because my business is stopped. We have to spend the only money earned by my husband," said Ma Kaythi Moe, a souvenir vendor at Ngapali Beach.
Most Ngapali residents depend in some way on the economic activity generated by visitors to the seaside town. Though travellers are few and far between at the moment, some souvenir sellers are keeping their shops along the beach open nonetheless.
"We open the shop not because of having buyers but rather in order to protect the shop from the risk of thieves," said Daw Than Than Mar, one such vendor.
Only four shops including her souvenir shop are open at Ngapali Beach currently, with the rest having suspended their operations, said the Development Affairs Committee in Ngapali town.
Along with the state capital Sittwe and the ancient city of Mrauk-U farther north, Ngapali is one of the top destinations for visitors to Arakan State.
According to figures from the Directorate of Hotels and Tourism in Arakan State, arrivals of local and foreign visitors to Arakan State declined nearly 25% this year compared with 2019 due to the effects of the coronavirus pandemic and regional instability.
Between January and October of 2019, the number of arrivals to Arakan State was 104,764, but this year's number over the same period was 78,900, some of whom have had to undergo quarantine, according to the state Directorate of Hotels and Tourism.
Nationwide, the country recorded 99,155 coronavirus cases in total as of Sunday evening, with 2,110 killed from the disease and 77,636 recovered.