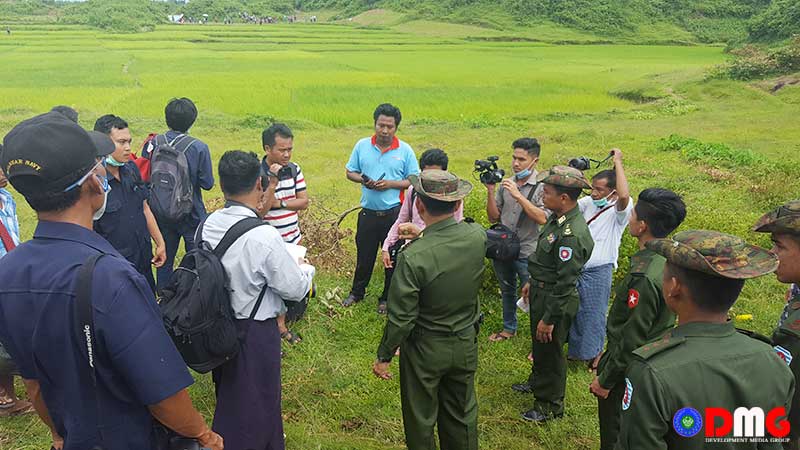 Myo Thiri Kyaw,Nyan Hein | DMG
18 December 2020, Sittwe
A nine-member advisory group was formed on December 11 to lead the implementation of measures aimed at ensuring the safety and security of journalists across Myanmar. 
The advisory group is made up of the free expression advocacy organisation Athan; Burma News International (BNI); Myanmar Journalists Association; Myanmar Journalists Network; Myanmar Journalists Union; Myanmar Media Lawyers' Network; Myanmar Press Council; Myanmar Women Journalists Society; and PEN Myanmar.   
U Myint Kyaw, secretary of the Myanmar Press Council, said the advisory body would develop measures intended to protect journalists and activists. 
"Our plan also includes calls for amendments to law," he added. "There are also safety training courses such as [teachings on improving] physical, mental and technical security. We will urge the stakeholders to work together for the safety and security of journalists." 
Media coverage and reporting in Arakan State are a challenge, said Ko Ekaraz, a freelance journalist in the state. 
"The journalists in Arakan State are facing hard times. Due to the security restrictions imposed on journalists during the fighting, there are many challenges in reporting," he said, referring to conflict between the Tatmadaw and the Arakan Army in Arakan State. "DMG's editor-in-chief has been sued. So I'm happy about the formation of an advisory group." 
As the government seeks to curb media coverage of human rights abuses in conflict-torn Arakan State, there are restrictions on journalists' access to information, said U Khaing Mrat Kyaw, chief editor of the Sittwe-based Narinjara News Agency. 
U Naing Min Wai, joint secretary of the Myanmar Journalism Institute (MJI), said that some reporters had been called in to coordinate, and that the coordinators should document cases in which journalists are threatened and submit those incidents to the advisory group.  
During the first four years of the National League for Democracy (NLD) government, 67 cases were brought against journalists under provisions of the Penal Code, and laws covering defamation, terrorism and other alleged crimes, according to data compiled by Athan.