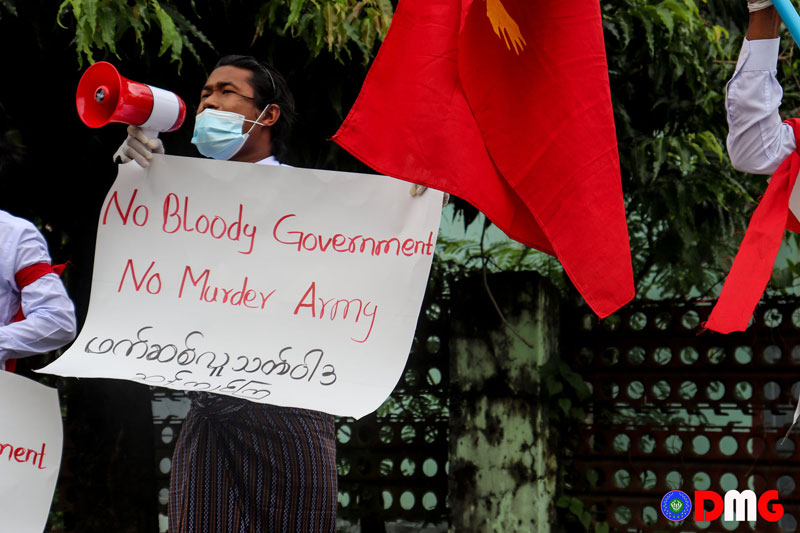 Aung Htein | DMG
25 December 2020, Kyauktaw 
The Arakan Students' Union has demanded that the Tatmadaw take legal action against the soldiers who allegedly beat and interrogated a matriculation student in Apaukwa village, Kyauktaw Township. 
The 18-year-old, Maung Aung Nay Win from Apaukwa village, was taken from his home by two Tatmadaw soldiers on December 22 and was released later the same evening, his father said. 
In a statement on Thursday, the Arakan Students' Union (ASU) condemned the beating of civilians by military personnel. 
"We are highlighting that innocent young students are being targeted and brutally beaten by the Tatmadaw. As [this conduct is] a remnant of the military dictatorship, our student union has to fight back," said Ko Toe Toe Aung, the ASU's political committee in-charge. 
The statement added that such abuses perpetrated against innocent people are a far cry from the federal Union and national reconciliation that the government is calling for.
The Myanmar National Human Rights Commission (MNHRC)'s neglect of human rights violations is a public disappointment, said the ASU. 
"We want the perpetrators to be brought to justice in accordance with the law. However, as long as such human rights violations continue in Arakan State, they [the military] will continue to face criticism," Ko Toe Toe Aung said. 
An 18-year-old college student from Pyintaw village in Ann Township was allegedly beaten during an interrogation by security personnel on August 28.  
The number of people arrested by the Tatmadaw on suspicion of having ties to the Arakan Army rose by at least 104 since June, according to data compiled by DMG. 
But fighting between the Tatmadaw and Arakan Army has not been reported in more than a month and arrests in connection with the conflict have ceased as the two sides have come to a détente in the wake of Myanmar's November 8 general election.