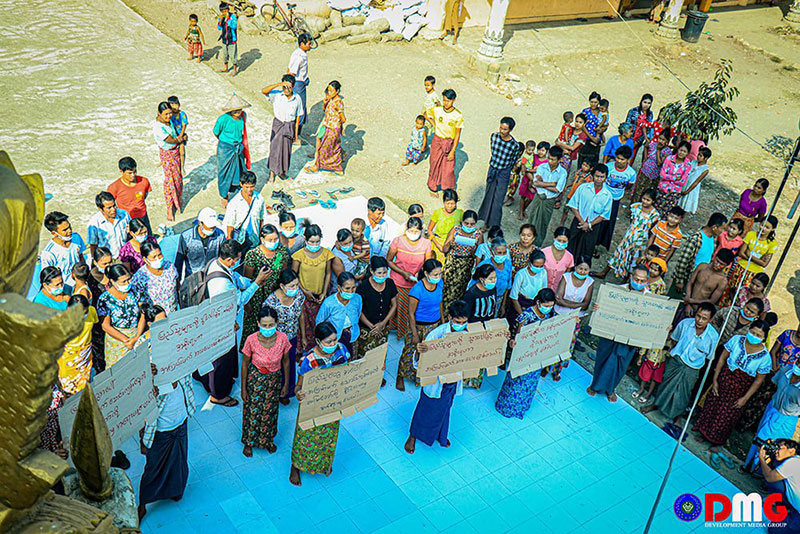 Hnin Nwe | DMG
19 January 2021, Kyauktaw 
Internally displaced people (IDPs) who fled homes in Marlar village in Kyauktaw Township staged a protest on Tuesday afternoon demanding six points, including that they be allowed to go to their home village to recover their property and personal possessions. 
A petition letter was sent to the Arakan State government on December 31 asking that the prospect of returning home safely be assured, including safeguarding properties left during their flight, but no response has yet been received, villagers said.  
U Oo Than Hlaing, a 100-household head in the village, said: "We want to go and bring our property that was left at the village. We submitted our desire of returning home to take our properties. But there's been no response. So, we demanded again, hoping to receive an answer."  
They asked to backtrack on Tatmadaw moves to reinforce forces and outposts; to take legal action against members of the Tatmadaw who committed violent offences against villagers; to allow villagers to go to their village freely, to return villagers' paddy, rice, cattle, pigs, goats, timber, motorbikes, three-wheelers, tractors, bicycles and other properties taken by Tatmadaw personnel; and to remove landmines planted near villages.  
"We want to return home, but we dare not do so because a military contingent has positioned itself near the village. So, we want to demand to remove the military outposts and landmines they set up. Additionally, we want to get back all our properties that the Tatmadaw members took," said Daw Phyu Phyu, a resident of Marlar village.  
DMG sought comment from Colonel Min Than, the Arakan State minister for Security and Border Affairs, and Major General Zaw Min Tun, spokesperson for the Tatmadaw True News Information Team, regarding villagers' accusation that members of the Tatmadaw took the properties of the villagers, but was unsuccessful. 
DMG also phoned the spokesperson for the Arakan State government, but he could not be reached. 
Regarding the landmine clearance demanded by IDPs, the Tatmadaw will clear them after the Tatmadaw and Arakan Army sign an agreement on deployment of troops, Col. Min Than has previously told DMG. 
Residents of Marlar village fled to Kyauktaw town in March of last year due to the armed conflict, leaving their homes and much other property behind.