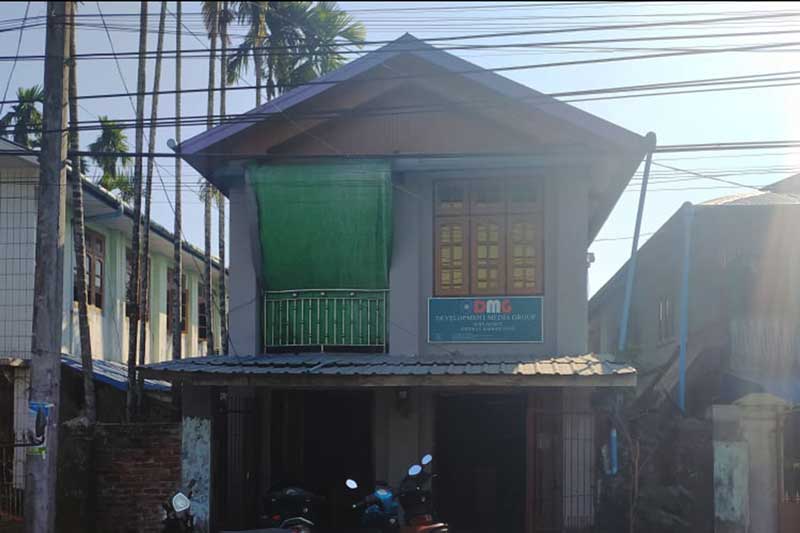 Nyan Hein | DMG
25 January 2021, Sittwe 
Six media organisations released a statement on January 25 urging the military to lodge a complaint with the Myanmar Press Council (MPC) before seeking remedy through the court system, in reference to a recent lawsuit brought against a reporter and editor for Development Media Group (DMG). 
In their statement, the Myae Latt Journalist Network, Myanmar Journalist Network (Ayeyarwady), Lashio Journalists Group, Southern Myanmar Journalist Network, Taunggyi Reporters Association and Myanmar Journalist Network urged the MPC to intervene in the case against the two DMG staffers. 
"The head of the No. 2 police station [in Sittwe] and an inspector arrived at our office this afternoon at about 4:30 p.m. They asked where U Nay Win San and Hnin Nwe were living," Ko Zaw Zaw, operations manager of DMG, said on Monday, referring to the concerned deputy editor-in-charge and reporter respectively.  
"I told them we are trying to get in contact with them and will visit the police station. We are discussing with legal experts and members of the advisory team to settle the case through legal channels." 
U Nay Win San said the Tatmadaw should file a complaint with the MPC if it is not satisfied with media coverage of any kind. 
"The Tatmadaw should not open cases [with the courts] straight away. It needs to negotiate through the MPC. Because it has opened a lawsuit directly, a journalist is worried for her safety," he said. 
The recent news report by Hnin Nwe, headlined "Tatmadaw personnel accused of looting paddy in Kyauktaw Twsp village" in English, was published to the websites and Facebook pages of DMG on January 10. 
Major Hpone Myint Kyaw on January 22 opened a lawsuit against Nay Win San and Hnin Nwe in relation to the story, alleging that it had defamed the Tatmadaw. The lawsuit was opened under Section 66(d) of the Telecommunications Law, a legal provision frequently criticised as a go-to for those seeking to stifle speech. 
DMG sent a letter to the MPC on Monday, seeking arbitration in the case and arguing that charges under the Telecommunications Law were not appropriate prior to MPC involvement, as stipulated under the 2014 News Media Law. DMG has asked that the lawsuit brought by Major Hpone Myint Kyaw be withdrawn.