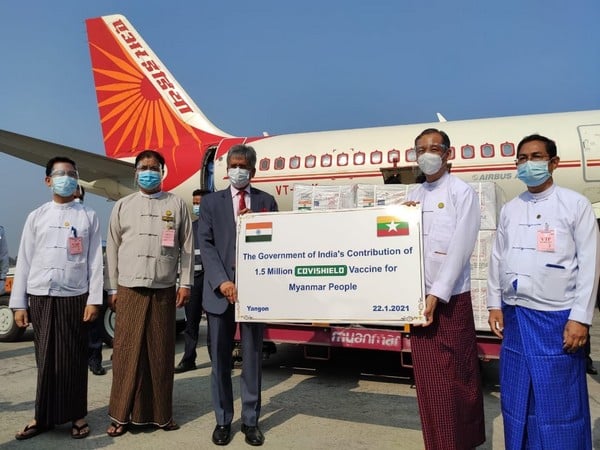 Kyaw Thu Htay | DMG
25 January 2021, Sittwe 
Myanmar's first shipment of COVID-19 vaccine will inoculate healthcare workers in Myanmar against the deadly virus, but some worry that the shot, which has been supplied to healthcare workers in Arakan State as elsewhere, will have side effects. 
The initial batch of COVID-19 vaccine vials, donated by India, will be enough to cover more than 4,400 health workers in Arakan State, and arrived in Sittwe on January 24, according to the Arakan State Department of Public Health.   
A health worker who spoke on condition of anonymity said he was concerned about the possible side effects of the vaccine being administered to him and his colleagues. 
"I am worried because I don't know if the vaccine is dangerous or not. I am registered for immunisation. I am not afraid of getting sick for a day or two after vaccination. I'm worried I'm going to get sick after being vaccinated," said an unnamed health worker. 
Dr. Soe Win Paing, assistant director of the Arakan State Department of Public Health, said the virus vaccines in the state have been stored and are slated to be administered to more than 4,400 health workers in the state over the coming days. 
"The COVID-19 vaccines were delivered by Myanmar Airlines around 1:30 yesterday [January 24]. We plan to vaccinate nearly 4,450 health workers in Arakan State," said Dr. Soe Win Paing.
There are more than 110,000 health workers in Myanmar, with first priority given to inoculating healthcare professionals. The second priority will be to vaccinate people over the age of 65.
Some 1.5 million doses of the Covishield vaccine, shipped to Myanmar from India as a gift, arrived in Yangon on January 22. 
The vaccine is already being distributed throughout Arakan State and a vaccination drive is reportedly set to begin on January 27. 
There are 385 health workers in Arakan State's Kyaukphyu Township, and all except pregnant women and nursing mothers will be vaccinated, said Dr. Ye Lwin Maung, medical superintendent of Kyaukphyu Hospital. 
"We have to go to Taungup to get the virus vaccine tomorrow. I trust in the vaccine, which the government is giving as a priority to health workers. The staff of the station hospital will be vaccinated in halfs to ensure that their work is not disrupted," Dr. Ye Lwin Maung added. 
Since the coronavirus was first reported in Myanmar on March 23 of last year, 137,574 people have been infected with the virus and 3,062 have died of the disease, according to data from the Ministry of Health and Sports as of January 25. 
Also as of Monday, there were 4,259 confirmed cases of COVID-19 in Arakan State, with 37 deaths, according to the Arakan State Department of Public Health.