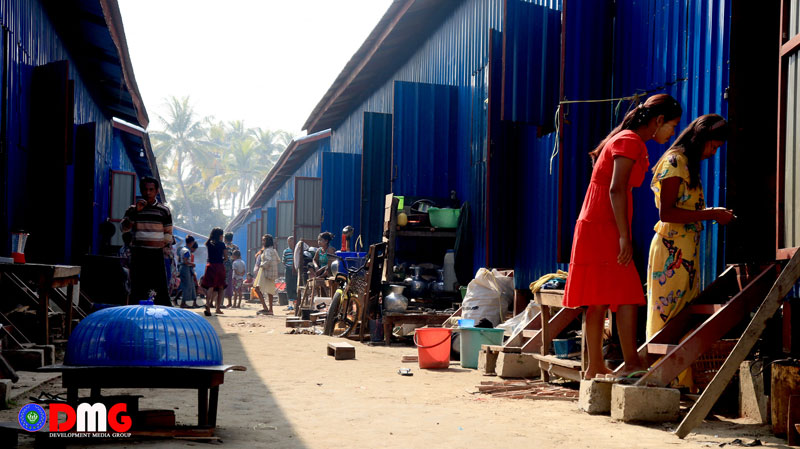 DMG Newsroom
16 March 2021, Myebon
A camp providing shelter to more than 300 internally displaced people (IDPs) at Agnu Maw in Myebon Township, Arakan State, is in urgent need of food supplies and kitchenware, according to volunteers.
The flow of relief supplies for the IDPs has dropped since November, according to Daw Tin Ma Thein, who is sheltering at the camp.
"When we took shelter in the monastery, donors visited us regularly. But since we have arrived here, the new place, they have only come on and off. And we had to work in February as there were no donors," she told DMG.
Many of the IDPs had stayed in Buddhist monasteries in Myebon before moving to Agnu Maw IDP camp. The World Food Programme (WFP) and International Committee of the Red Cross (ICRC) have been the camp's primary donors.  
WFP provides K15,000 ($10.64) per person and ICRC supplies a sack of briquettes for cooking to each household on a monthly basis, according to IDPs.
"One sack of briquettes is not enough. We need at least three sacks [per month]. We can't afford to buy extra briquettes that we need," said IDP Daw Phyu Ma.
Authorities should arrange jobs for the IDPs because relief supplies are not sufficient and jobs are scarce, said U Maung Maung Than, another IDP.
"We dare not go to the forests to collect and sell firewood for fear of landmines. There are no other jobs available. And we are struggling even to feed ourselves," he said.
Many IDPs want to return to their homes, but dare not do so due to military deployments in and around their villages, and the risks of landmines. IDPs have also expressed concern that they may not be able to find any source of livelihood upon returning home, whereas they are still managing to survive on the relief supplies at the displacement camps.
Some civilians have returned home after two years of fighting between Myanmar's military and the Arakan Army effectively ceased in November, but about 138,000 war victims still remain in IDP camps, according to the Rakhine Ethnics Congress.