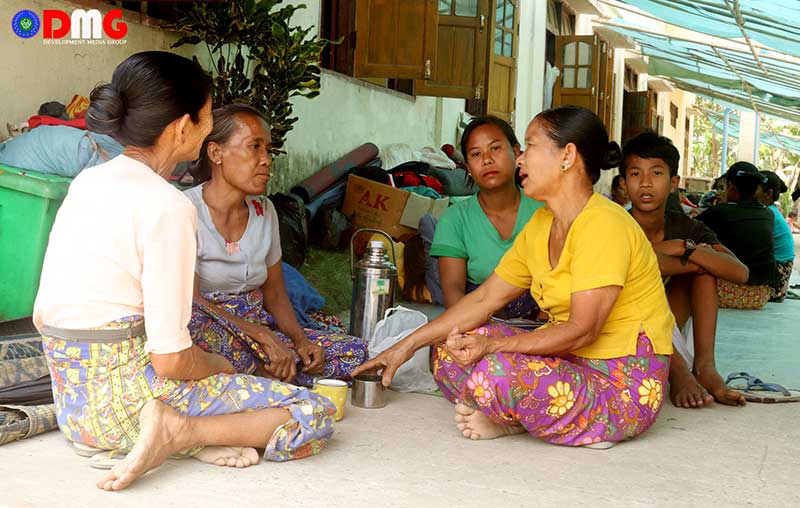 DMG Newsroom
27 March 2021, Sittwe 
Internally displaced people (IDPs), civil society organisations (CSOs) and charity groups in Arakan State have called on the state-level Administrative Council to walk the walk with its promise to provide accommodation and other supplies to returning IDPs. 
"For the IDPs to return home, first of all there must be homes for them to return to. They will return if there are no Tatmadaw troop deployments in and near their villages," said Ko Ann Thar Gyi, chairman of Thingaha Kanlet Rakhita social organisation. "As they have lived in displacement camps for more than one year without a regular income, they can't afford to repair their homes." 
He added: "The council said it would provide assistance. But there has been no tangible evidence and it is difficult to believe what they say. The IDPs will return home once the council makes arrangements for them." 
"We will build houses for IDPs who have lost their houses, and cover the renovation costs for those whose houses were damaged," said U Hla Thein, spokesman for the Arakan State Administration Council. "They may not have cattle for farming when they return home. For the time being, we will provide a tractor for each village, and also supply paddy seeds. They will be able to restore their livelihoods in the rainy season." 
However, IDPs dare not return to their villages due to military deployments nearby as well as the risk of landmines. 
"We remain in displacement camps not because we want to, but because we are forced to. There is no one at my village. And the Tatmadaw has deployed troops on Mt. Taung Shae near my village. We are concerned that we might be tortured by them if we return," said Daw Mya Win Kyi from Tinma Gyi village, who is taking shelter at a camp in Kyauktaw. "I don't worry about the problem of livelihood. We will be able to make a living anyway. We will return home if there are no longer Tatmadaw troops and mines are removed." 
Daw Oo Win Kyi from Lekka village, who is taking shelter at Pepinyin displacement camp in Mrauk-U Township, said she is concerned about the possibility of fresh clashes between Myanmar's military and the Arakan Army (AA). 
"I have long wanted to go back home. But I don't know where to run if clashes recur after I return. I really dread that," she said. 
Over 230,000 people were forced from their homes during two years of Tatmadaw-AA conflict, while tens of thousands have returned home as clashes have ceased since November. 
The military-led Arakan State Administration Council has also urged the IDPs to return to their homes.