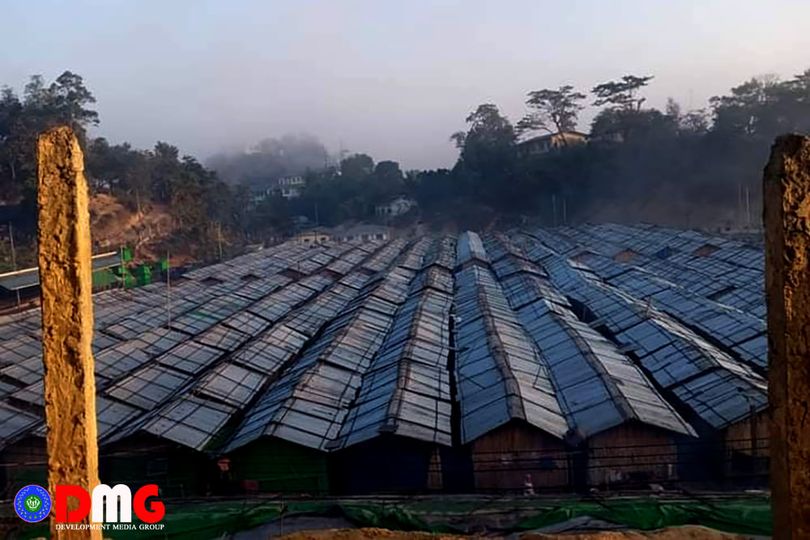 DMG Newsroom
5 April 2021, Paletwa

About 400 shelters were damaged by strong winds at three displacement camps in Chin State's Paletwa Township on Sunday evening, according to camp managers.
Out of 319 shelters at a displacement camp set up on a football pitch in Paletwa Township, 285 were damaged by the strong winds. More than 1,000 people are living at the camp for internally displaced people (IDPs).
Winds also damaged more than 40 of 230 houses at a displacement camp in a Buddhist monastery, and 46 of 204 houses at Sikepyoyay IDP camp.
"As the wind blew for more than 40 minutes, houses had roofs and walls blown away. As the houses were damaged, displaced people got wet the whole night. Some stayed at the houses of others whose families are small," said Sikepyoyay camp manager U Shwe Sein Maung.
Some houses were completely destroyed while others were partially damaged at the camp in Visudayone Monastery, said camp manager Ko Tin Oo.
"We are already repairing the houses by ourselves as there is nowhere else for them to live. For the houses that were completely destroyed, we have sought help from civil society organisations that help internally displaced people," he said.
"If we can't repair the houses ahead of the rainy season, we may have more troubles then," said U Ye Tet Maung, manager of the IDP camp on the football pitch. "But we don't have bamboo, tarpaulin sheets and so on to repair the houses."
He said he had made a list of houses destroyed and damaged by the strong winds, in order to seek help from township authorities.
There are more than 7,000 people in Paletwa Township displaced by past fighting between Myanmar's military and the Arakan Army, according to humanitarian groups.