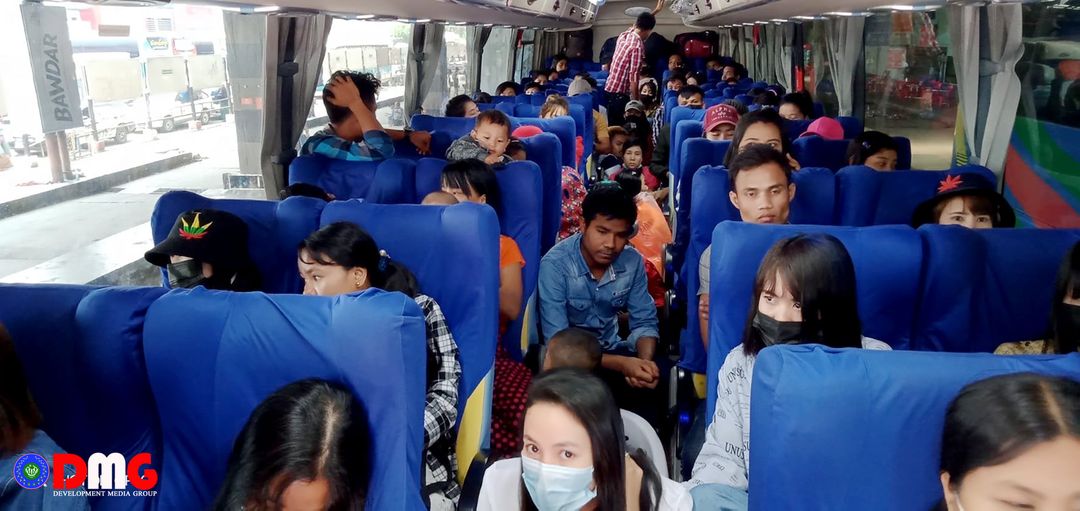 DMG Newsroom
9 April 2021, Yangon
About 3,000 Arakanese migrant workers have returned from Yangon since March amid political turmoil in the commercial capital, according to Arakanese organisations that are assisting the migrant labourers.
The Arakan Welfare Association and Arakan National Network are providing free rides to cash-strapped Arakanese migrant workers to return to their hometowns in Arakan State.
The two associations have been arranging for their return since March, and have so far ferried around 3,000 migrant workers in 50 vehicles to Arakan State.
Some 200 more migrant workers will be transported back to Arakan State by Saturday, according to the Arakan National Network. The program will be suspended during the traditional Myanmar New Year festival Thingyan. 
"Many Arakanese people have lost their jobs in the political upheaval," said U Oo Myint Kyaw, vice-chairman of the Arakan Welfare Association. "They face serious hardship. We have helped send back 50 vehicles of migrant workers to Arakan. We will continue to run this program after Thingyan, depending on the situation."
The return of the migrant workers is being funded by donors, but donor numbers are declining due to the closure of private banks, and there have been difficulties in hiring buses, said Ko Tin Htoo Aung, chairman of the Arakan National Network.
"We have financial constraints. Friends and well-wishers have promised to fund their return. However, the problem is cash can't be withdrawn from banks. There have been fewer donors. And it has become difficult to hire buses," he said.
Returning migrant worker Ma Mi Nge said she was concerned that she would not be able to find a job when she arrives back in Arakan State, which was plagued by two years of fighting between the Tatmadaw and Arakan Army.
"While even the residents here have difficulty finding jobs, many have returned from Yangon, and jobs can be scarcer under such circumstances. So, it is important that authorities create job opportunities," she said.
According to the Assistance Association for Political Prisoners (AAPP), since the February 1 coup a total of 614 civilians had been killed nationwide in violent crackdowns on anti-regime protesters as of Thursday.
The AAPP said 2,857 people were detained, and 52 of them have been sentenced to prison terms over the same period.