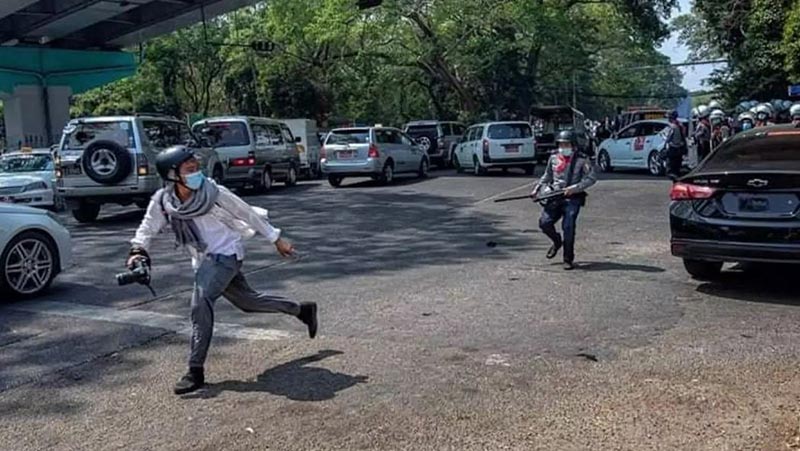 DMG Newsroom
3 May 2021, Yangon 
Several diplomatic missions in Myanmar called for the immediate release of all media workers detained by the military junta, as well as for an end to internet restrictions, as they marked World Press Freedom Day on May 3. 
The statement sought to "pay tribute to the essential role of journalism in upholding online and offline freedom of expression," said the 17 foreign missions, including those of the United States, European Union and United Kingdom.  
"Media freedom is a cornerstone of democratic societies and a source of legitimacy that should be unconditionally preserved and guaranteed. Journalists must be free to report without fear of reprisal or intimidation," it added. 
Since the Myanmar military's February 1 coup, more than 80 journalists have been arrested and more than half of them remain in detention. In an alarming escalation of the military regime's repressive tactics, the relatives of some journalists have also been targeted in recent days.  
Security forces arrested the brother-in-law of the chief editor of the Chinland Post, a local media outlet in Chin State, on Thursday after they did not find the editor at his home, according to the Assistance Association for Political Prisoners. And on Saturday, the junta arrested the husband of a freelance reporter in Yangon's Dagon Township after they did not find her at home. 
The military-run Information Ministry also revoked the publishing licence of the Kachin State-based Myitkyina News Journal late last month. In March, the junta revoked the licences of five independent media outlets: Myanmar Now, Khit Thit Media, Democratic Voice of Burma (DVB), Mizzima, and 7 Day News. 
"Press freedom is a right, not just of media professionals, but of each and every one of us," Monday's statement concluded, with its signatories pledging to "continue to support a free and independent media as an integral dimension of good governance and human development."