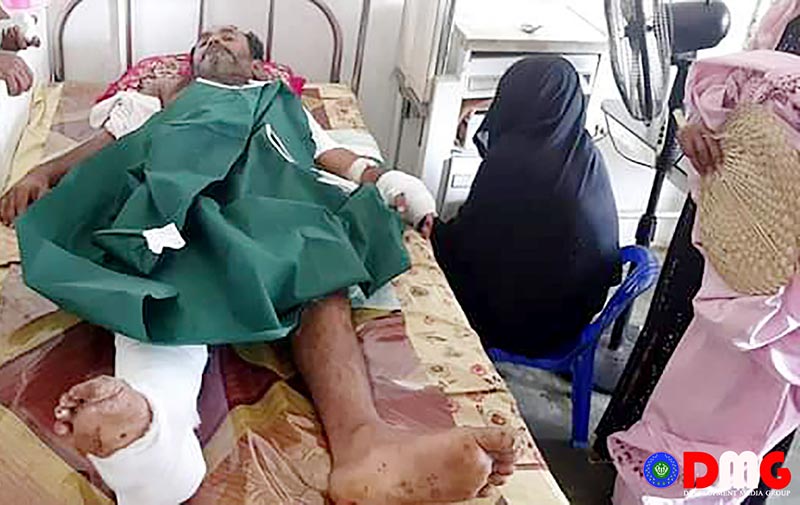 DMG Newsroom
9 June 2021, Maungdaw 
A Maungdaw furniture shop owner who was kidnapped last month along with his son was released on June 8, though his son has yet to be seen or heard from.  
U Rawphee, 50, sustained injuries as a result of his kidnapping and has been receiving medical treatment, said U Myo Myint, the Myoma Ka Nyin Tan village-tract administrator. 
"His family members informed us about the release of U Rawphee at 7 a.m. I informed the police station and then we went to their home. As he has serious injuries, we sent him to the hospital quickly," said U Myo Myint. 
Four burglars clad in black and armed with guns and knives invaded the home of U Rawphee, owner of the Yadanar furniture shop in Maungdaw town, at about 1 a.m. on May 23. They stole property and abducted U Rawphee and his son Mamud Ayers, 27, according to the victims' family members. 
Although U Rawphee was released on Tuesday, his son remains kidnapped, said the family. 
"The kidnappers called my sister at about 4 a.m. today and said the situation of her husband was not good," said Ko Khin Zaw, the brother-in-law of U Rawphee. "They said they left him beside the Maungdaw-Angumaw road near milestone No. 56 and to come take him. So, we hired a car quickly and brought him to our home. As he had serious injuries, police recommended that we send him to the hospital and we did." 
U Rawphee suffered two gunshot wounds to his right leg, one gunshot wound to his left arm and other bodily injuries. He has been receiving treatment at Maungdaw General Hospital. 
Mamud Ayers was taken to a different place than his father one day before U Rawphee was released, said Ko Khin Zaw, citing what his brother-in-law had told him. 
Police arrested a 30-year-old man named Abdullah in connection with the kidnapping.