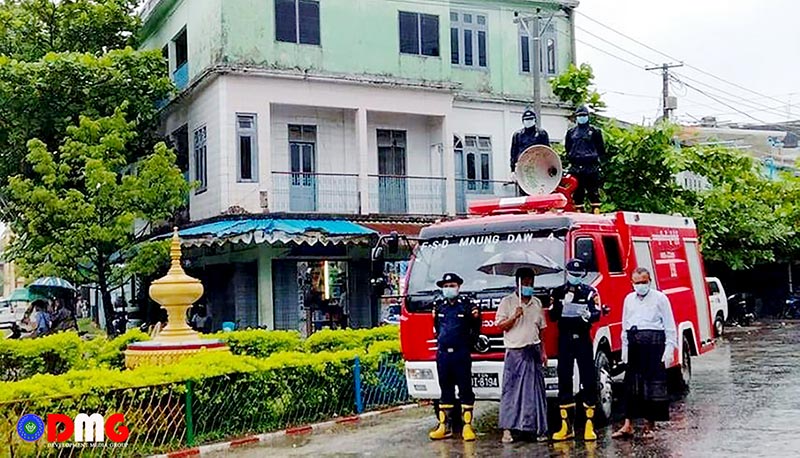 DMG Newsroom
12 June 2021, Maungdaw 
A second COVID-19 case has been reported among 19 people who illegally entered Arakan State's Maungdaw Township from Bangladesh after they were tested for the virus in recent days, according to the Maungdaw District People's Hospital. 
The two people were diagnosed on June 10 and 11, said Dr. Nu Kay Thi San, medical superintendent of the Maungdaw District People's Hospital. 
"One more Muslim man was found to have been infected with the virus today. A second test revealed that the man from Zula village in Maungdaw Township was diagnosed with the virus," she explained. 
The first person infected with COVID-19 among the 19 illegal entrants has been identified as Mamat Taw Yup from Balukhali refugee camp in Bangladesh. 
Due to the increasing coronavirus case count in Maungdaw Township, officials from the Department of Public Health and the Fire Services Department announced regulations on infectious diseases, "do's and don'ts", preventive measures and warnings using loudspeakers in Maungdaw Township on Friday evening. 
Health officials have urged the public to wear facemasks when going outside; wash hands with sanitiser and soap; cover nose and mouth when coughing; avoid crowded places; stay at least 6 feet apart from one other; and seek medical attention immediately when experiencing COVID-19 symptoms such as fever, cough and shortness of breath. 
Eight family members who had close contact with the second virus patient were reportedly placed under observation at the Hla Phoe Khaung facility quarantine centre. 
More than a dozen people have tested positive for COVID-19 over recent weeks in Arakan State, according to the Arakan State Department of Public Health, with most of the cases coming from people aboard trading boats making calls to port in Sittwe. 
Civil society organisations have urged authorities to suspend activities at border trade gates, and to pay heed to the health department's precautions against coronavirus to prevent additional COVID-19 infections in Arakan State. 
The Arakan State military council has said there is no plan to suspend border gate activities despite the past month's COVID-19 cases, while noting that returnees are subject to quarantine procedures and are tested for COVID-19. 
U Hla Thein, spokesperson and attorney-general for the Arakan State Administration Council, told DMG that quarantine centres in Sittwe have not been reopened for now, but an old Sittwe University building has been prepared for such a purpose if infection numbers rise to a level where it is deemed necessary. 
There were 4,264 confirmed COVID-19 cases reported during the first and second waves of the virus in Arakan State, with 37 people dead.