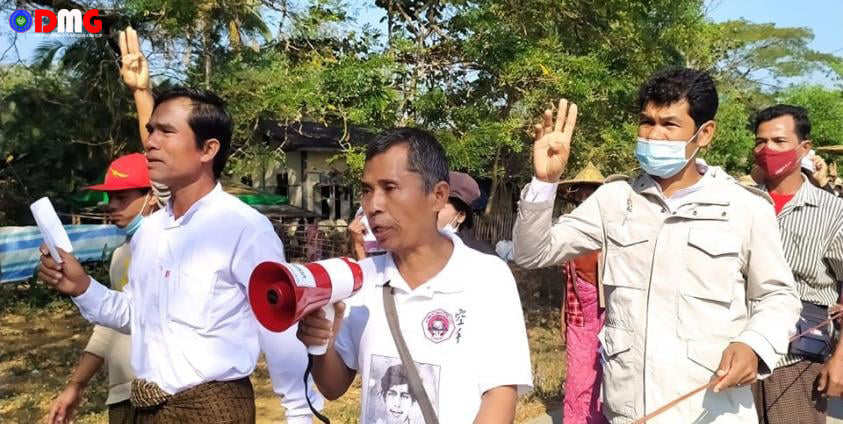 DMG Newsroom
22 October 2021, Sittwe 
The State Administration Council (SAC) released nine people this week who were arrested for protesting against Myanmar's military dictatorship in the Arakan State townships of Taungup, Gwa and Manaung. 
The nine people, released from various prisons in Arakan State on October 19, are U Ye Khaung Nyunt, U Lu Ni and Ko Aung Soe Moe from Gwa Township; U Min Aung, Ko Thant Zin Phyo, U Tin Thein Aung and Ko Chit Maung Maung from Taungup Township; and Ko Win Naing and Ko Kyaw Swe from Manaung Township. 
"We were released on October 19," confirmed Ko Win Naing. "Prison officials said the charges against us have been dropped. We spent more than eight months in prison." 
Daw Win Chay, a member of the National League for Democracy (NLD) in Ann Township who is on the run after an arrest warrant was issued for her, said there are still people who have been detained and are facing prosecution for speaking out against the military's February 1 coup. Others, like herself, are in hiding due to outstanding arrest warrants for anti-coup activism. 
"I am happy to see that some detainees have been released," she said. "However, there are people who are fleeing because of the arrest warrants issued by the Myanmar junta. Some suspects and protestors were arrested in some townships and are facing trial. They must be released." 
A former Arakan State minister and NLD member, U Min Aung, has also been charged with corruption and will continue to face trial in prison. 
Many NLD members in Arakan State have been on the run since the military seized power and some people have been arrested and prosecuted for their alleged links to anti-coup militia groups known as People's Defence Forces (PDFs). 
The SAC announced on October 18 that more than 5,600 people arrested or rendered fugitives of the law for their anti-regime activities would be granted amnesty. However, there have been reports that some were rearrested not long after being released from prison.