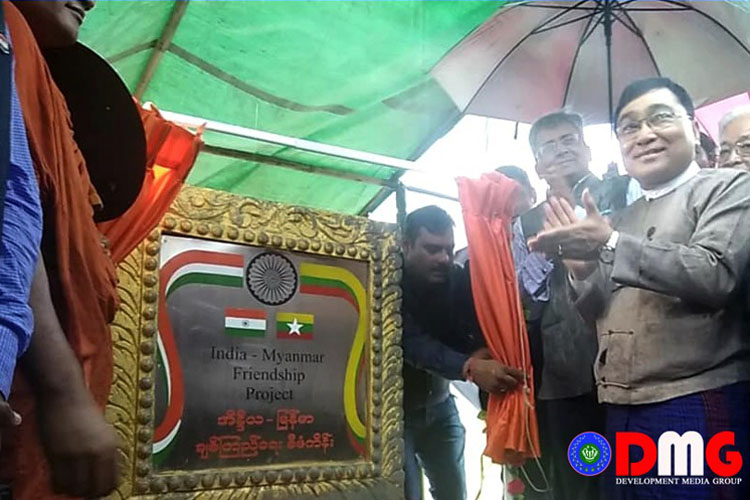 Cha Lu Aung | DMG
11 July, Sittwe

The Indian government is going to provide USD 25 million within five years for resettlement of returnees and socio-economic development in Arakan State, Indian ambassador to Myanmar Mr. Shri Saurabh Kumar said.

The Indian government committed to provide it under the MoU signed between Myanmar and India. During the first year, it built 250 houses in Maungdaw Township and handed them over to the Myanmar government on 9 July.

"Our Indian government is ready to provide aid for the Myanmar government in building houses, roads and bridges," the Indian ambassador said.

The Myanmar government announced that both governments are coordinating with each other to carry out 22 projects for the development of Arakan State. The two countries will also work jointly in other sectors such as education, health, agriculture and livestock, power supply, rural area transportation, water supply and sanitation under the MoU.

The subsidy is furnished for all townships in Arakan State and union minister for Social Welfare, Relief and Resettlement and MPs from Arakan State Hluttaw plans to use the funds for regional development projects.

"We have to wait and see if the projects were developed systematically or not.  And we have already told the government to consult with members of parliament in Arakan State before starting a development project," said Daw Khin Saw Wai, Pyithu Hluttaw representative for Rathedaung Township.

Dr Win Myat Aye, union minister for Social Welfare, Relief and Resettlement, said that the constructive aid from India, China, and Japan is a great help for people who are returning to the country to live a better life.