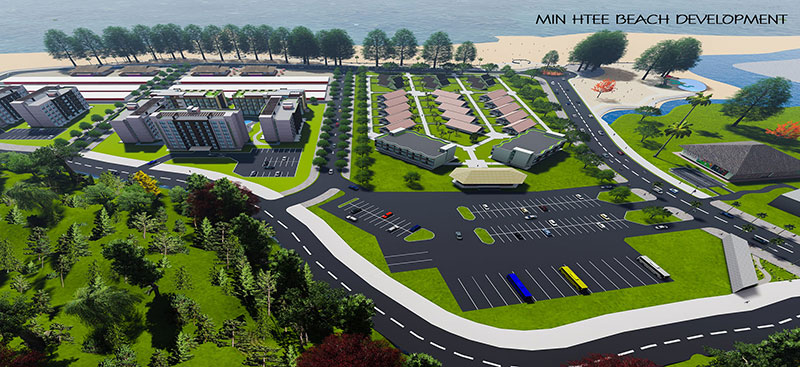 DMG Newsroom
30 December 2021, Thandwe 
An "Entertainment Beach City" is being developed in southern Arakan State, according to an official from Min Htee Company, which is developing the project. 
Also known as the "Min Htee Project," the entertainment complex is being developed on land between Myarwa and Ahtelpyin villages of Kyeekanye village-tract, in Thandwe Township. 
The project is located about 20 miles from Thandwe town, said U Aung Min, owner of Min Htee Company. 
"We aim to do something that is not yet available in Myanmar. Many hotels are built along the beach. We will counter this in the project. The project is designed to include several public areas," U Aung Min told DMG. 
The project is being developed on 160 acres of land at a cost of more than K2 billion, according to the developer. It is scheduled to open to the public in October 2024. 
The Entertainment Beach City will include hiking trails, public bathrooms, swimming pools, shops, playgrounds, boating facilities, a venue for Arakan traditional wrestling and guesthouses, he added. 
"Those who want to take a boat can do so. In addition, locals will be trained to perform Arakan traditional wrestling. Nightclubs and bars will be opened for those who want to dance," he said. 
Coastal roads and hiking trails are currently being built and about 7,000 saplings are being planted, according to Ko Htoo Myat Thar, the project in-charge. 
"It can be said that Arakan State's tourism industry can grow if this project is completed," said U Tin Tun Aung, director of the Directorate of Hotels and Tourism in Arakan State. "But we need to take the ongoing Covid-19 pandemic into consideration," he added. 
Domestic and foreign tourist arrivals to Arakan State dropped by 25% in 2020 compared with 2019 due to regional instability and the Covid-19 pandemic, according to figures from the state's Directorate of Hotels and Tourism. 
The numbers are widely expected to fall further in 2021, with the military's February 1 coup and its chaotic aftermath dealing a crippling blow to the nation's economy and tourism industry.