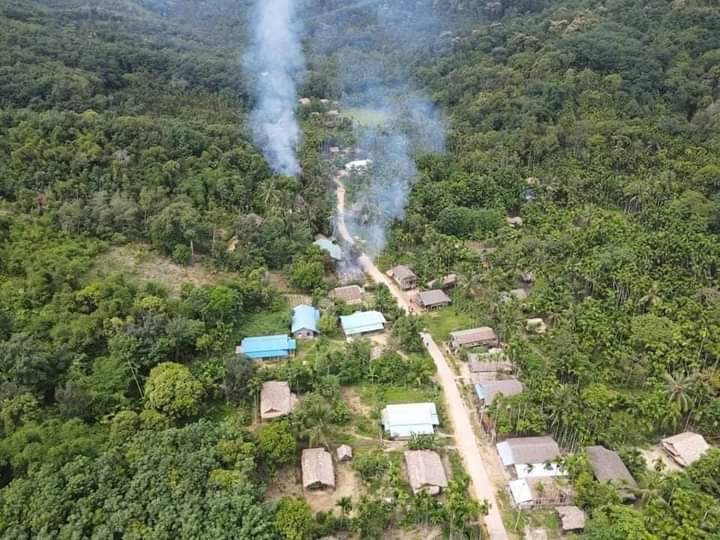 DMG Newsroom
15 June 2022, Palaw, Tanintharyi Region 
Seven houses were destroyed in a clash between the Myanmar military and a coalition headed by the Karen National Defence Organisation (KNDO), a military branch of the Karen National Union (KNU), near Kyaukneit village in Palaw Township, Tanintharyi Region, according to a ground source. 
On June 13, a major clash broke out between the Myanmar military troop entering Kyaukneit village and the KNDO, lasting nearly six hours, according to a KNDO member. 
"The junta troops stormed the village. The exchange of fire between the two sides lasted for almost six hours, from 6 a.m. to 12 noon," the KNDO member added. 
Seven homes were burnt to ashes by the shelling, according to local people. 
"The sound of heavy weapons was heard in downtown Palaw. The Myanmar military reportedly set fire to seven homes in the village. Some residents in the village fled to downtown Palaw," said a local from Kyaukneit village. 
As a result of the recent fighting, more than 1,000 villagers from Kyaukneit and nearby villages have fled to Palaw and nearby forests. 
"As many as 1,000 people have fled to downtown Palaw and nearby villages. Some residents are hiding in the jungle. We are providing food items to the people displaced by the fighting," an aid worker said. 
More than 3,000 people from villages near Palaw Township have been displaced by heavy fighting between the Myanmar military and the KNDO forces since June 13, according to local relief groups.