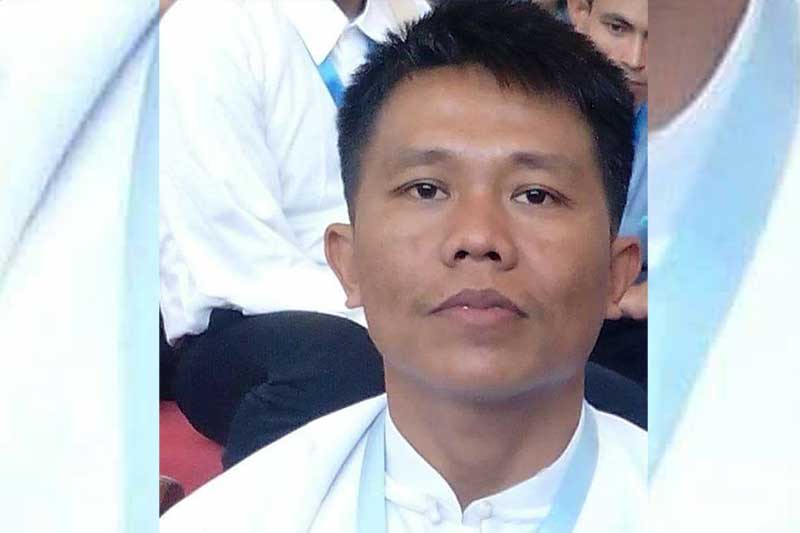 DMG Newsroom
27 June 2022, Sittwe

Family members are worried about the safety of people recently arrested by the Myanmar military in Kyauktaw and Ponnagyun townships because they have not been allowed to meet the detainees, whose whereabouts remain unknown.

The detainees are Ko Zaw Win aka Ludu Zaw Win, a resident of Kyauktaw's Pyidawtha ward, who was arrested on June 21; Ko Zaw Min Htet, a 27-year-old man from Panphechaung village; and U Kyaw Than Maung, 41, from Khaungtoke village.

Family members say they went to local Myanmar military outposts, police stations and township administrators' offices to meet the detainees, but did not receive any information about the detainees.

"We are concerned for his safety because we are unable to contact him," said a family member of Ko Zaw Min Htet. "My mother is depressed and ill because of her son. He has been detained since one week ago but we don't know his whereabouts."

Daw Khin Hla Zan, the wife of Ko Zaw Win, said she had not yet been in contact with her husband since his arrest. He will reportedly appear in court on June 28, she added.

"My husband is not in very good health. If he does not eat regularly, his whole body will tremble and lose strength," Daw Khin Hla Zan told DMG. "He was arrested, so I am very worried that he will not be able to eat regularly and that he will be beaten."

Family members are also concerned that the whereabouts of eight locals arrested on June 16 in Ponnagyun Township are still unknown.

U Myo Lwin, the father of Ponnagyun detainee Ko Myo Thwin, said his son earns a living as a warden for a bus line, and has no links with politics, demanding the immediate release of his son.

"He has been detained for 10 days and has reportedly been sent to Sittwe," U Myo Lwin said. "My son is reportedly being held at the Myanmar military's Light Infantry Battalion No. 550. He also had hepatitis B and has to take medication every day. I am worried that he will die under interrogation, as one of the detainees reportedly died. His mother is also sick about him."

Seventeen-year-old Min Aung Khaing is among those detained by the Myanmar military in Ponnagyun Township. He was reportedly arrested along with his friend Naing Myo Tun on their way to Pauktawpyin village.

U Soe Naing Win, the father of Naing Myo Tun, said he wants to contact his son, whose whereabouts are also unknown.

"I want the two boys released as soon as possible but their whereabouts are still unknown. I am worried they will be interrogated and tortured in military custody," he said.

The Arakan Army has detained 14 junta soldiers and policemen in Ponnagyun, Kyauktaw, Mrauk-U and Sittwe townships this month. The Myanmar military has made dozens of civilian arrests following the Arakan Army's detention of those security personnel.

The military has not released any information on the civilian arrests. Maj-Gen Zaw Min Tun, spokesman for the military regime, and Colonel Kyaw Thura, Arakan State minister for security and border affairs, were not immediately available for comment.