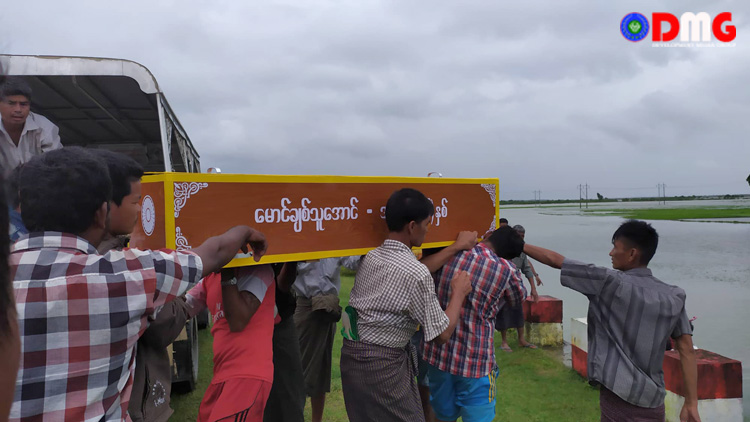 Khaing Roe La | DMG
2 August, Sittwe

A local resident was shot for travelling during the hours of a curfew in Ponnagyun Township, the Tatmadaw announced.

The shooting took place on a bridge connecting Ponnagyun and Sittwe Townships at Min Chaung creek. A 26-year-old man identified as Ko Chit Thu Aung was shot on 1 August, at about 11 p.m. and died at the spot.

Two man in their mid 20s, who are from Ah Myint Kyun village in Sittwe Township, were shot on the bridge near their village while both of them were returning home by motorcycle from their work at a crab wholesale center.

"My son is not a criminal. He never commits any offences. So, I am not satisfied with his death," said U Win Aung, father of Ko Chit Thu Aung.

A Tatmadaw security force stopped two motor cycles driven by Ko Chit Thu Aung and Ko Zaw Myint Lwin to ask the drivers question. Ko Zaw Myint Lwin stopped to talk with the security force but Ko Chit Thu Aung did not stop and sped away at a high speed, that's why the military security force shot at him, the Tatmadaw announced.

Ko Zaw Myint Lwin was detained in Ponnagyun police station and police will proceed to take action against him for breaching section 144.

The curfew order has been imposed in Ponnagyun Township, but not in Sittwe Township. The shooting occurred at a place between Ponnagyun and Sittwe Townships.

The body of Ko Chit Thu Aung was sent to Sittwe hospital at night on 2 August at about 1 a.m. and his family took the body to their village this afternoon.

The curfew order has been imposed in Ponnagyun, Kyauktaw, Mrauk-U, Minbya, Rathedaung, Buthidaung and Maungdaw Townships and people are not allowed to move between 9 p.m. and 5 a.m.