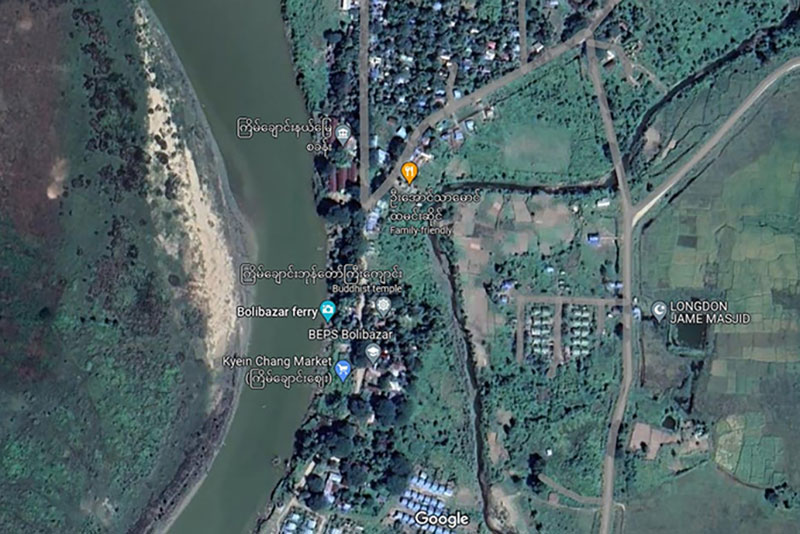 DMG Newsroom
22 September 2022, Maungdaw  
The Myanmar military and the Arakan Army (AA) clashed for about an hour near Kun Thee Pin Village in northern Maungdaw Township on Thursday, according to locals. 
"The clash was fierce," a resident told DMG. "Junta soldiers fired countless rounds of artillery, so much so that the Earth was shaking." 
Locals from surrounding villages such as Mee Tike, Tharyargon, and Thinbawhla are preparing to flee their villages. However, the regime has imposed a travel ban affecting the main routes linking northern and southern Maungdaw Township. 
"Roads are blocked, and there are no public buses operating. There are around 100 villagers trapped in Nanthartaung," said a resident of Nanthartaung Village. "People from across Taungpyo Letwe want to flee. But they are trapped as roads are blocked." 
DMG was unable to contact Myanmar junta spokesman Major-General Zaw Min Tun and AA spokesman U Khaing Thukha for comment on Thursday. 
Some 60 villagers from Mee Tike who fled to Maungdaw town following fighting near their village on September 10 are still trapped in Kyein Chaung Village because they are not allowed to pass a junta checkpoint in Aung Mingalar Village, a Mee Tike villager told DMG. 
"We are staying at the monastery of Kyein Chaung Village, and we have to buy food with our own money. It has been around 10 days since we arrived here," he said. 
Residents from some 20 villages in northern Maungdaw Township are also trapped as they were stopped at checkpoints in Kyein Chaung, Aung Mingalar and Kyeekan Pyin, said a resident of Mingalar Nyunt Village. 
"Our villagers have fled since the fighting broke out. Only around 100 villagers remain at the village. We can't travel to Maungdaw now even if we want to. We will starve if the roads are blocked for one more month," he said. 
More than 1,000 displaced people are now in Maungdaw town, taking shelter at monasteries and struggling to obtain food supplies, said a volunteer helping those displaced. "We can't even make phone calls to those who remain in northern Maungdaw," he added. 
Buddhist monk Thabawa Nadi, who is also helping displaced people, called on the military regime to lift its travel ban on aid agencies so that they can deliver much-needed relief supplies. 
"I urge the government not to restrict humanitarian aid, and to allow charities and social organisations to deliver supplies freely," he said. "The government is responsible for helping people in trouble. But we charities are helping those who are out of the reach of the government. They may check as necessary, but should allow [humanitarian aid groups] to travel freely." 
The Myanmar military and the AA have engaged in intense fighting in northern Maungdaw Township, which borders Bangladesh, since August.