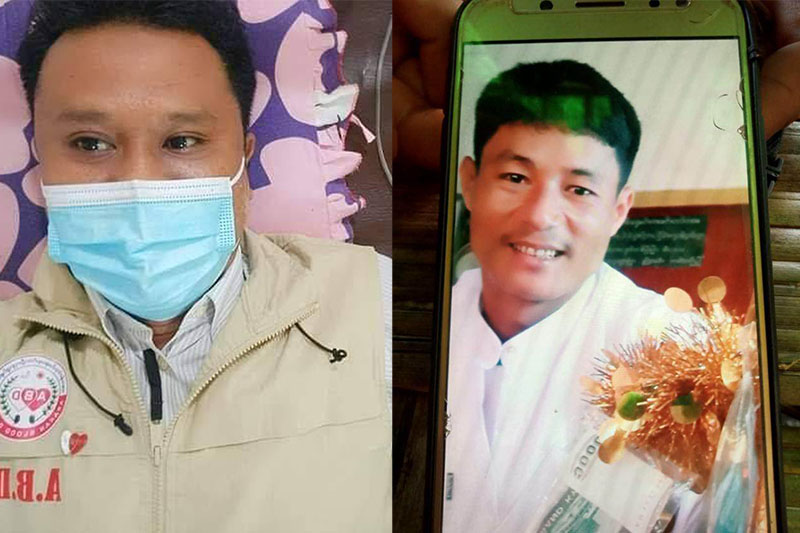 DMG Newsroom
8 November 2022, Sittwe

Junta soldiers detained a resident and an internally displaced person (IDP) in Arakan State's Sittwe Township on Sunday and Monday, respectively, according to family members.

Ko Than Lwin, 30, who is a member of local blood donor group Arakan Blood Donor (ABD), was detained from Sittwe Hospital at around 10 p.m. on Sunday, ABD chairman Ko Maung Maung told DMG.

"He is a member who helps find blood for patients that need transfusions. He was detained at the outpatient department while helping find blood for a patient. He was taken by police. We don't know where he was taken and where he is being held," said Ko Maung Maung.

On Monday, an IDP from Pyaing Taing Village in Kyauktaw Township who was sheltering at Buddaw Maw Monastery in Sittwe was also detained by the Myanmar military.

About 20 junta soldiers took Ko Oo Htay Naing, 32, at around 3 a.m. on Monday, said his relative Ma Yin Oo Than.

"We don't know where he was taken, and he was sick at the time of arrest," she said.

DMG was unable to contact Arakan State Security and Border Affairs Minister Colonel Kyaw Thura to enquire about the detentions.

There were also reports that junta troops abducted the abbot and two novices from Thukhacari Monastery in Sittwe late Sunday night, though DMG could not independently verify those reports.

The Myanmar military and the Arakan Army (AA) are engaged in fierce fighting across much of Arakan State, with junta troops arresting dozens of civilians on suspicion of having ties to the AA over recent months and the Arakanese armed group seizing some junta personnel.