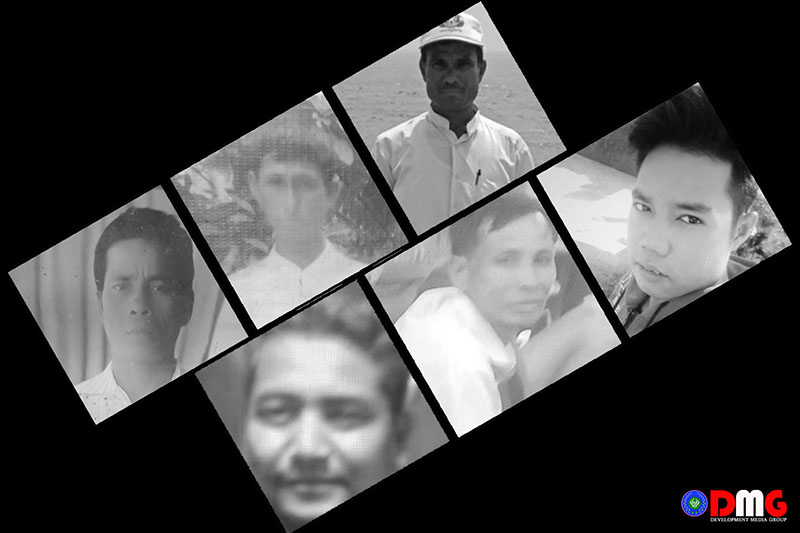 DMG Newsroom
19 November 2022, Ponnagyun 
Family members say they have not been in contact with eight detained men from Arakan State's Ponnagyun Township for about a week, and they are worried about the safety of the detainees. 
Regime troops from a Myanmar Navy vessel at the mouth of a creek near Tankhoe entered the village at around 10 a.m. on November 12 and abducted seven residents from Tankhoe Village and a local man from Kywhtoe Village, eyewitnesses told DMG. 
The men have been identified as U Maung Win Kyaing, 56; U Maung Thein, 51; U Oo Maung Thein, 48; U Geordi Aung, 50, U Oo Maung Thein, 48; Maung Han Tin Win, Maung Nay Htet Lin; Maung Maung Han Win; and U Tun Hla Aye, 46, the latter from Kywhtoe Village. 
Family members are concerned for the fate of the eight detained men as they have not been in contact with them since they were arrested. 
"We are worried about their safety because we don't know exactly whether they are alive or dead. I think they are being held at a naval base in Sittwe. They were reportedly transported by a Myanmar Navy vessel," a family member of one of the detainees told DMG. 
Many residents fled to safer locations when the junta soldiers entered Tankhoe Village on November 12. 
Among those arrested, U Maung Thein, a resident of Tankhoe village, is mentally ill, U Geordi Aung is a social activist, and the rest are civilians, residents told DMG. 
"I have asked for help from my friends in Sittwe to enquire about the detained Tankhoe villagers as they are reportedly held at No. 1 police station. We have yet to receive information about the eight detained men," said another detainee's relative. 
DMG attempted to contact regime spokesman Major-General Zaw Min Tun and Arakan State Minister for Security and Border Affairs Colonel Kyaw Thura regarding the matter, but they could not be reached. 
Meanwhile, three elderly male residents of Kyaw Zan Village, Ponnagyun Township, who went missing while fleeing a junta raid on their village on November 12, were released from the military's Ponnagyun-based LIB No. 550 on November 18, according to family members. 
Some 5,000 residents from several villages in Ponnagyun Township have recently fled their homes due to junta raids and artillery strikes.